"The home of greed is the heart of hate. With callous manipulation he gives the dog a bad name so as to hang it for dinner"
In the past two decades, practitioners of the Arts, actors, dancers, sculptors, visual artists, singers and instrumentalists including event managers have been plying their trade at the National Council for Acts and Culture (NCAC) zonal office Lagos ground as tenants of NCAC and the Federal Government.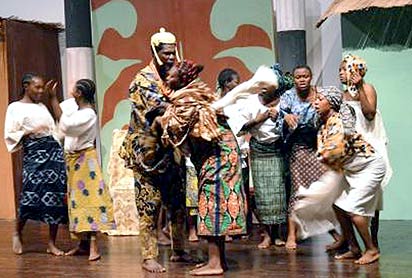 In all these years we have never heard or seen Corpses lying anywhere in the National theatre Complex or it's environ not to talk of the Artistes Village.
The level of our professional practice qualified us to rent the vacant space abandoned by the NCAC after the mass movement of government parastatals to Abuja .We have since found the place congenial to the people of like minds. Trained seasoned practitioners have since developed the place into what we call an Artiste's village. There is no such community of artist anywhere in West Africa.
This unique community of artists haS provided entertainment at different Carnivals and Festivals within the country and outside the shores of Nigeria. It has also helped serve as regular training centre for Young and upcoming artists.
We find it insulting, wicked and inhuman to condemn group of seasoned professionals as "miscreants" by the minister for Culture and Tourism Chief Edem Duke.
On the 6th of March 2015 at the inauguration of APCON board of directors' ceremony in Lagos, the minister of Culture and Tourism Chief Edem Duke described the artist village as home of miscreants where  pigs and goats are reared. One wonders whether the minister has any idea or affinity with the arts apart from watching television, entertainment Actors and associating with Nollywood clan.
Hollywood in America grew from studios built by individuals into a community of Film makers who settled around the buses of Hollywood, and for want of a better name, they christened the place "Hollywood city".
The great American "Broadway" that has spread into "OFF BROADWAY" and "OFF-OFF BROADWAY" grew out of a few stage theatre producers establishing theatre tradition and today has become a big source of America's income earner.
If the minister is knowledgeable about this unique community called the Artists Village, the most valuable contribution as a culture minister is to develop the place and not to destroy it to achieve desperate ambition to get contract to build five star hotel and mall the Dubai style. Tourism is not to impose foreign culture on our home and invite strangers to come and enjoy the hospitality of a foreign culture.
This cradle of artistic community is indeed the first of its kind in West Africa and attracts Tourists and provides the most useful artistic information about the people called Nigerians.
Knowledge of commercial arts
It seems Nollywood is the minister's only knowledge of commercial Arts in NIGERIA. He should be informed that Broadway theatre tradition built the American movie industry and still makes more money for America selling full house tickets six days every week through the years. Therefore the minister should pay attention to the stage. There are things that could be done to enhance the existence of the artistes such as:
Ensure the wellbeing of artistes by advocating or introducing retirement benefits for artists.
Liaise with our numerous ambassadors all over the world to encourage exportation of our artistic products. •Improve the circumstances surrounding the copyright law on piracy to save the artiste's creative works.
Build more auditoria and cottage theatres rather than arcades. Artistic entertainment is different from social leisure. There are amusement parks and play grounds enough for kids, they are quite different from artistic and intellectual entertainment. What the practitioners at the artiste's village are doing is a replica of a miniature "Hollywood" and "Pinewood studio"
It will be full hardy to rock the boat of Nigeria's centre for artistic creativity which our West African brothers and neighbours "Ghana, Benin Republic and Cameroon are proudly emulating. When President in his magnanimity doled out a huge sum of money as grant to the arts sector, I thanked him and suggested that a part of it should be set aside to build a hall of fame for our hero's past and present. This would attract tourists to the country and a big money earner. But the Hon. Minister for Culture and Tourism choose to ignore the idea to building a Shopping Mall and Leisure centre instead.