By Chris Onuoha
Performing arts lovers in and around Lagos, were treated to another thrilling encounter recently when  Hamlet, one of the oldest William Shakespear's plays was performed in Lagos.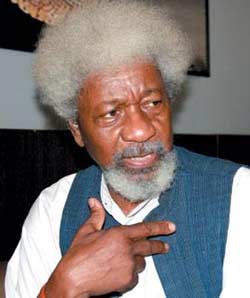 The play which came courtesy of the Globe to Globe production which was staged at the Agip Hall, Muson Centre, Lagos received a rapturous standing ovation from the crowd through the period it lasted.
The team of performers was made up of Nigeria's Ladi Emeruwa and an impressive international cast and crew of 17, lived up to expectations exhibiting vigour and personae the true image of iconic Hamlet in a sold out Shakespeare's Globe to Globe production.
Globe to globe production
The show tagged simply 'brilliant' with an abridged performance at the St. Saviours School, Ikoyi, Emeruwa's alma mater  witnessed a converge of great personalities, who's who in Nigeria theatre industry, literati and lovers of theatre started with a press conference held at "The Love Garden" of the MUSON Centre where local and international press keen to get a glimpse of Nigeria's very own, Ladi Emeruwa who in the shared role of Hamlet, later thrilled fans alongside an impressive international cast and crew of seventeen.
Nigeria's very own Nobel Laureate, Prof. Wole Soyinka, welcomed the international Globe Theatre and especially the country's star Hamlet, saying in an email "l extend an unabashedly nepotistic welcome to "he that play the prince"- OUR OWN SON! – as we say in these part – on loan to your company until we have completed the restoration of our own Globe Theatre if only we could find its location."
The two hour performance brought out the best of William Shakespeare's language command, the intrigues, suspense and human dexterity exhibited by the cast as the audience were all rapt till the end of the show. The maverick Ladi performed his best as he showcased to his home audience, the coming of age and a make good crossover from law study to a flexible theatrical pursuit.
Fielding questions from the jour
nalist, Ladi mentioned that Globe project is his first international job and it gave him the opportunity to visit every country of the world promoting and encouraging cultural exchange and awareness. "In the whole Shakespeare's play, we took it by beat, the major plots to key into the original Shakespeare's two hour running." he said.
After the performance, guests who thronged the arena in large number were not disappointed and expressed satisfaction having watched Ladi performed live in his home soil. A guest commented that Ladi was "a damn good fencer"; while another said "it was a great performance, all the characters around Hamlet responded accordingly, from hurt, confusion and intimidation to violence, suicide and self-preservation. This Hamlet was brilliant".