Former Super Eagles captain Austin Okocha says he has no plans of going into coaching but hopes to one day be the president of the Nigeria Football Federation (NFF).
"No, not for the moment. I'm more interested in the executive positions. I prefer to be the one who appoints them and tells them what to do " was Okocha's response when he was asked if he will one day be a coach.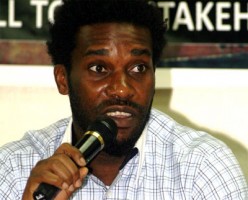 However when asked about eyeing the NFF presidency in the future, the former Fenerbache, Bolton, PSG, Eintracht Frankfurt and Hull City playmaker responded positively to his ambition.
"Why not? Yes. In fact, I've just been named the chairman of the Delta State Football Association, which I'm delighted about. Who knows what the future has in store, though?".
The Delta State FA boss made this known during an interview with fifa.com where he refused to name his favourite among the teams he played for, but picked his goal against Oliver Khan, scored in 1993 against Karlsruhe while he was playing for Eintracht Frankfurt as his most memorable.
"I was very young and I hadn't made a name for myself yet. Klaus Toppmoller was my coach at the time and he started me on the bench for that game, which I wasn't especially pleased about.
"We were 2-1 up when he finally decided to put me on. We were under pressure and my job was to keep the ball, but we put a break together and I suddenly found myself in the opposition penalty box with four or five defenders facing me.
"I just dribbled with the ball, going one way and then the next before putting the ball past the keeper, who was none other than Oliver Kahn."