By Bashir Adefaka
Founder and Head of Inri Evangelical Spiritual Church, Lagos, Primate Elijah Babatunde Ayodele, has dismissed a report that listed his name as one of prophets whose prophecies about the 2015 elections particularly the presidential segment that pitted President Goodluck Jonathan and General Muhammadu Buhari, did not come through.
The Ikere, Ekiti State-born prophet, said there was nothing he said in his book, 'Warnings to the Nation' about the elections and the two major contenders that did not come to pass.  Quoting from the warnings, Ayodele said he was seeing his negative prophecies come through as a result of nonchalance on the part of the people concerned.
During a press briefing in his church office, in Lagos, he repeated some of the warnings especially as published and asked which among them did not come through.  He started by quoting  what he said the Lord said through him as published in Saturday Vanguard of December 28, 2013: "President Goodluck Jonathan's second term is dicey.  He will start some political abracadabra in order to gain his second term which will be characterised by so much of negotiations.  He will have to cajole and beg a lot of people; he will also beg Obasanjo.  What Nigerians see now is only a tip of an iceberg of the clash that will come between Obasanjo and Jonathan. Jonathan might be the last president of PDP to rule this country, anyway."
The prophet said he however had a message for the APC in that same publication in 2013 that, "If they (APC) really want to rule, they have to struggle and pray very well to get the right candidate.  They must be careful so that their party is not used for negotiation.
In another interview published on November 2, 2014, the Inri Church leader gave reasons the APC was asked to fast on October 27, 28, 29 of same year, which he said was not really taken serious.
He stated, "About the state of the nation, if a prophet speaks, he finds solution.  We said APC, All Progressives Congress, should fast 27, 28, 29 (of October).  The question should be, for what?  There are three reasons:
One, if they really want to control the central government as a ruling party (in 2015), then they must fast.  Then two is for them not to lose any of their leaders and, three, for the avoidance of wrangling among themselves."
He said he had in the November 2, 2014 interview said that Jonathan's visit to Jerusalem was a waste of time but that if he really desired to win the 2015 election, he should fast for 14 days, a call he said he did not heed.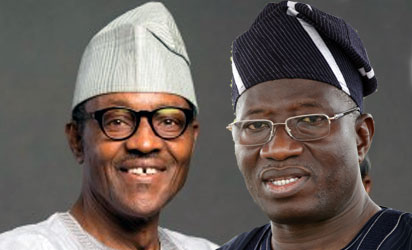 In The Guardian of Saturday, July 13, 2013, Ayodele specifically referred to what he said about 2015 as laying the foundation for the disintegration of Nigeria "except we pray and Jonathan listens to the words of God."  The publication revealed the primate as prophesying that "Jonathan will not win in 2015," citing many other warnings of the past that he did including the one published by Daily Champion of Wednesday February 29, 2012 at page 43 where he said, "I am not against President Jonathan or his government but let him not contest in 2015.  He should relax else he will break the country.  In Weekend Champion of June 16 – 17, 2012 at page 12,  I said, 'The governors will gang up against Jonathan and the PDP will lose the central government in 2015.  In Global Excellence of Tuesday, September 25 – Monday October 1, 2012 at page 5, I said 'President Jonathan's 2015 ambition will break the governors into factions' and that Governor Mimiko should not leave the Labour Party for the PDP". Ayodele then asked what it was that was his prophetic role in helping the people in charge of the country operate successfully that he had not done.
The primate wondered if those that listed him in a newspaper report as one of prophets whose prophecies did not come through had actually followed his prophecies at all.  The man of God however urged President-elect Buhari and other stakeholders in the administration of the country (outgoing and incoming) to be God-fearing, God-conscious, heeding warnings by truthful
and sincere religious leaders with a view to seeking solutions. "This is the way to run a successful nation," he counselled.