By Francis Igata
ENUGU — Fire- brand cleric, Rev. Fr. Ejike Mbaka of  Adoration Ministry, Enugu, has congratulated General Muhammadu Buhari on his victory at the presidential election.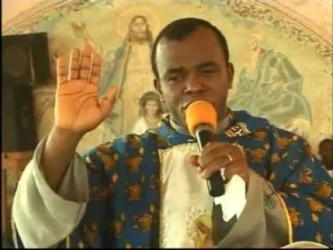 Mbaka, whose New Year message, entitled, 'From Goodluck to Badluck,' elicited mixed reactions across the country, described Buhari's emergence as a divine victory for the entire Nigerians.
The priest, in a press briefing, through the spokesman of the ministry, Maximus Ugwuoke, urged the President-elect to  tackle the myriads of problems facing the country.
"It is with vindictive joy and glory to God that Adoration Ministry, the nation and, indeed, the world saw the fulfilment of Fr Mbaka's New Year prophecy of change."