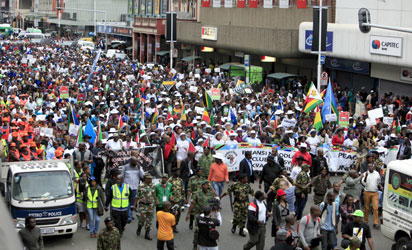 Thousands of people take part in the "peace march" against xenophobia in Durban, South Africa, on April 16, 2015. South African President Jacob Zuma on April 16 appealed for the end of attacks on immigrants as a wave of violence that has left at least six people dead threatened to spread across the country. In the past two weeks, shops and homes owned by Somalis, Ethiopians, Malawians and other immigrants in Durban and surrounding townships have been targeted, forcing families to flee to camps protected by armed guards. AFP PHOTO
Nairobi – Kenyan Cabinet Secretary for Foreign Affairs, Amina Mohamed, said on Friday that Kenya would evacuate its nationals from South Africa as xenophobic violence increases.
She said on Friday in Nairobi that though there were no Kenyan casualties in the uproar in South Africa, government was planning to evacuate those it could get hold of.
Mohamed said the evacuation had become necessary because of the fear that the attacks may spread across the country.
According to her, this measure will be taken after a new spate of violence has left at least five people killed in the eastern port city of Durban.
Some foreign-owned shops in Johannesburg's downtown area have reportedly shut this week amid the fears, with the police maintaining a heavy presence in the city.
Mohamed said some Kenyans living in the affected regions, mostly business people, had moved to temporary camps provided for victims, but not in large numbers.
She said the Kenyan Mission in South Africa was ready to offer assistance to any Kenyan national who may be adversely affected.
"Kenya's official figures show some 450 Kenyans are in Durban, mostly in the city centre,'' she said.
Meanwhile, organisers of protest march against xenophobic attacks in South Africa said on Friday in Lusaka, that police had cancelled the protest.
Miles Mukumbuta, Chairperson of the organisers, said they planned to march to the South African and Zimbabwean Embassies and present petitions.
She said police cancelled the protest due to short notice given by the organizers.
Zambian laws demand that police be notified five days before any public protest could be conducted.
"We demand that our leaders in Africa act decisively over what is happening in South Africa to ensure such does not repeat itself.
"This is because we live in a global village and therefore should be each other's brother's keeper," she said.
The organisers of the march dubbed "Black Friday" hailed the hundreds of Zambians that had continued to express interest in joining the march.
Lusaka Police Commanding Officer, Charity Katanga said the law on public assembly required that police were notified five days before the planned date.
She said this is to enable the Service prepare adequately to police the procession