By Peter Egwuatu
The Nigerian stock market yesterday recorded massive appreciation following the peaceful conclusion of the presidential election with investors gaining N1.816 trillion in four days trading that ended on Thursday.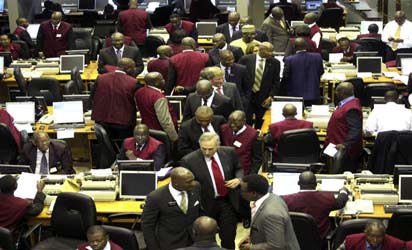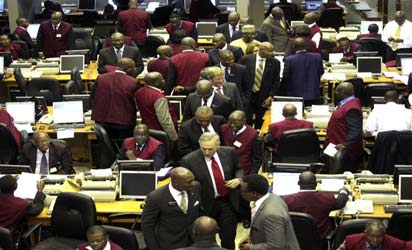 The Nigerian Stock Exchange, NSE market capitalisation moved from N10.318 trillion penultimate week to close on Thursday at N12.135 trillion. The market capitalisation represents the total value of shares traded on the exchange. In the same vein, another stock market gauge jumped by 16.9 per cent to close at 34,380.14 points from 30,562.93 points.
Meanwhile, the capital market operators have attributed the exponential rise to increased confidence in the market following the peaceful completion of the presidential election. All the key market indicators went up exponentially as the Banking index on Thursday rose by 7 per cent followed by the Consumer Goods and Industrial stocks with respective gains of 3.70 per cent and 1.55 per cent respectively.  The gains recorded by GTBank, UBA, Fidelity Bank, Zenith Bank and ETI propelled to lift  the banking subsector.
Specifically,  GTBank  moved  up  by 10.20 per cent to close at  N31.88,  followed by UBA, which garnered  10.07 per cent to close at N4.92. Fidelity Bank appreciated by 9.52 per cent to close at N2.07, Zenith Bank moved by 8.35 per cent to close at N25.05 and ETI inched up by 3.23 per cent to close at  N19.51.
Dangote Flour Mill Plc, International Breweries Plc, Nestle Nigeria Plc, Nigeria Breweries Plc, Honeywell Flour Mills Plc, NASCON and 7UP Bottling Company contributed significantly to boost the Consumer Goods sub sector.  Specifically,   Dangote flour  garnered  10.05 per cent to close at  N4.27, followed by  International Breweries which appreciated by 9.79 per cent to close at  N22.87.
Other gainers in the sub sector include: Nestle (5.00 per cent, to close at N936.60), Nigerian Breweries  (5.00 per cent to close at  N166.25), Honeywell Flour (4.76 per cent to close at  N3.30), NASCON  (4.07 per cent to close at  N8.19) and 7up (3.21 per cent to close at  N161.00).
The Industrial stocks were sustained by the capital appreciation recorded by Berger Paints, Portland Cement, Cutix,  and Dangote Cement Plc.
Berger Paints garnered (7.86 per cent to close at N9.06), Portland Paint gained (4.85 per cent to close at N3.46), Cutix up by  (4.40 per cent to close at N1.66) and Dangote Cement  inched  up  (3.17 per cent to close at N182.00). The last day trading for the week under review was  a huge day in terms of activity and turnover amounted to a massive N18.75 billion  ($94.21 million.