By Samuel Oyadongha, Yenagoa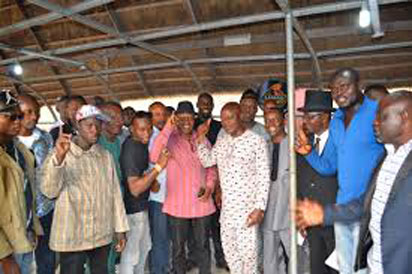 The Ijaw youth leaders from across Ijaw nation are to meet Sunday at Tuomo community in Burutu local government area of Delta to review and take position on the outcome of the 2015 presidential elections.
Spokesman of the Ijaw Youth Council (IYC) worldwide, Comrade Eric Omare, in a statement issued in Yenagoa said the meeting would also determine the next direction of the Ijaw struggle for self determination and resource control as enshrined in the historic Kaiama Declaration.
The decision to convene a national congress of all Ijaw youths, he said, was taken at an expanded executive council and consultative meeting comprising founders and former leaders of the IYC, National and Zonal Executive Council members and key stakeholders held at Izon House, Yenagoa, Bayelsa State on Wednesday. The statement reads:
"We call on all Ijaw youths to be alert and ready to heed the call to the service of the Ijaw nation at this crucial time of our history and struggle for survival in the Nigerian state in the face of the grand conspiracy between the North and a section of the South West to continue to suppress and exploit the resource of the Ijaw nation." The IYC noted with regret when President Jonathan, an Ijaw and from the South South won an internationally acclaimed free, fair and credible election in 2011, the North never at any time congratulated or supported President Jonathan.
"Instead they killed hundreds of innocent Nigerians and fought President Jonathan from the day he became the Acting President of Nigeria in 2010 until the North conspired with a section of the south west to take over the Presidency from President Jonathan and the minorities of the South-South in an election fraught with irregularities. "It is also significant to note that none of the Northern socio-cultural groups such as the Arewa Consultative Forum (ACF) and others congratulated or supported the administration of President Jonathan.
"Northerners created Boko Haram and blame it on President Jonathan deliberately to incite the Northern populace against President Jonathan and make him unpopular in the 2015 election so as to take back power in a grand conspiracy with a section of the south west. "Therefore, the April 5, 2015 meeting of all Ijaw youths would determine the position of the Ijaw youths on the 2015 Presidential election and our next line of action," the IYC stated.