By Gbenga Ariyibi
Ado-Ekiti—Few minutes after the celebration of Gen. Muhammadu Buhari's (retd) victory at the polls, hoodlums invaded Ekiti State secretariat of All Progressives Congress, APC, yesterday, destroying no fewer than five vehicles.
When the hoodlums, reportedly armed, besieged the secretariat, members of the party fled.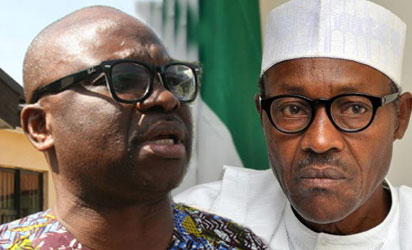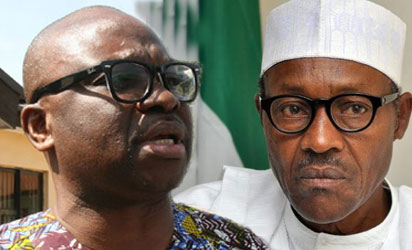 Commenting on the development, Public Relations Officer of the party in the state, Taiwo Olatunbosun, accused Governor Ayodele Fayose and the Police of complicity in the attack.
According to him, the party had earlier got information that plans were being hatched by some top government officials to prevent any celebration in the state.
He accused the governor of sending those he described as members of a killer gang after the party members with the intention of stalling the celebration of the party's victory at the polls.
The APC spokesman said it was worrisome that hoodlums could attack the secretariat, even when the Divisional Police Officer of Ologede Police Station in Ado-Ekiti and some of his men were on guard to ensure that things did not snowball into violence during the procession.
He said the hoodlums brandished guns, cutlasses and axes, which forced party members and passers-by to flee in different positions.
He said those that perpetrated the nefarious act allegedly came in three Hilux vans with government house plate numbers.
According to Olatunbosun, "we had few members left when they came because some of our teeming members, who held a peaceful victory procession were already leaving before they came. They shot at our secretariat."
He said one Femi Ogunyeye (alias Akilapa), Basiru Ajagbe, Ayo Terrorist and Opeyemi Atiaro were the masterminds of the alleged crime.
He said: "We were aware that they were coming, but we never knew Governor Fayose could do anything funny because of the mood of the nation.
"Although we heard him boasting that he will not allow anyone to mark the victory of Buhari in Ekiti State."
However, Chief Press Secretary to Governor Fayose, Mr. Idowu Adelusi, dismissed the allegation, saying APC had invented a catalogue of lies to create the impression that the state was in a crisis.
Adelusi said Fayose had no killer squad, accusing the immediate past government of running a killer squad.
He added that no fewer than 10 prominent indigenes of the state were allegedly killed during Fayemi's regime.
The Commissioner of Police, Mr. Taiwo Lakanu, who confirmed the attack, said: "We received information that APC headquarters in Ado-Ekiti was being attacked
"I deployed a team of police there led by Assistant Commissioner of Police and they succeeded in flushing out the miscreants that came to carry out the act."