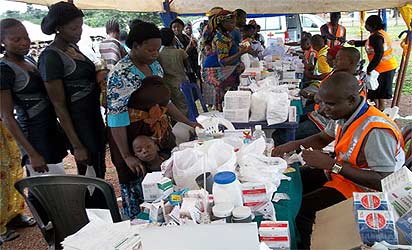 By  Chioma Obinna
Lagos State Council on Health has announced plans to launch a comprehensive and sustained social mobilisation campaign for health insurance with a view to promoting universal health coverage in the state. The Council met recently in Lagos to showcase the progress made in the State Health Sector over the last seven years while identifying areas for consolidation and intervention in the sector.
In a communiqué issued at the end its 2015 Council on Health with the theme: "Celebrating Excellence in Healthcare" and signed by the State Commissioner for Health, it noted the need to ensure legal backing for the use of alternative health financing strategies in providing health care and subsidising health care services for the people.
The participants said to ensure better health package for Lagosians, insurance contributions should be mandatory but based on ability which by extension would be tied to a bouquet of benefit packages.
They said the success of any health insurance scheme is dependent on adequate funding, strong advocacy and effective social marketing strategies. "The Social Health Insurance should be compulsory to promote universal coverage. Contributions should also be mandatory but based on ability which by extension would be tied to a bouquet of benefit packages.
Payment structure for the Health Insurance Scheme should be flexible with payment frequency options i.e. monthly, quarterly or annually and the benefit packages should be made robust and simple to understand to be attractive to prospective clients and ensure ease of access, the communiqué stated.
"There is also the need to develop a blueprint for Quality Assurance amongst participating healthcare facilities and operational guidelines developed to operationalise impending Law."
On issues bordering on maternal and child health, the participants stressed the need to strengthen newborn services as well as provide admission packs for every newborn admitted in the public health facilities. The participants agreed on improving family planning services by developing the Lagos State Family Planning Policy, establishing a strong distribution system for family planning services in the State and strengthening emergency obstetric services at all levels.
The participants also decried that 70 per cent noted the significant proportion of the disease burden due to maternal and child health lamented lack of synergy between the paediatricians and gynaecologists, adding that 15-20 percent of pregnant women require specialists' attention. They said neonatal mortality was not on the downward trend as compared to Under-5 and maternal mortality rates, due to insufficient emphasis on babies' survival as well as family planning.
"There is need to expand the scope and improve the quality of maternal and child health services at the PHC level, strengthen 2-way referral system and implement the policy on compulsory referral amongst others."