By Chimdi Maduagwu
There was a time when we heard… and it was as if things happened in a different world… but now we witness and we tell… because things now happen before our very eyes. Thanks to God for all these and also to the honourable people who make things happen. These, we want to believe, are happening because there is LOVE for the country.
We heard of Abraham Lincoln, the 16th President of the United States of America, and how he persevered and eventually became the president of United States of America. We were told, as children, that he contested various positions several times unsuccessfully and never gave up until he won the presidential polls. Whether this is true or apocryphal, it served and still continues to serve great purposes.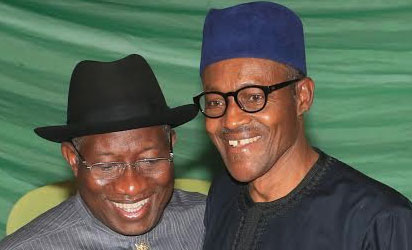 It did motivate and gladden us. We also heard of Nelson Mandela, who was jailed for life but along the line received a parole and as he got out of jail, he became the winner of the first popular election in South African presidential polls.
It never occurred to us that such things are for the love of the country. The same way we now can tell of General Mohammadu Buhari of Nigeria, who was a military dictator, who forcefully took over government, was subsequently forced out of government and has, since the advent of civil, democratic government, contested three unsuccessful times to return as head of state and at the fourth time, was elected the president of the Federal Republic of Nigeria. His resilience is commendable and admirable.
We want to suggest that such should be imbibed by our younger generation, in all, for the love of country. My excitement is not even with Genaral Buhari, but with the outgoing president, Dr. Goodluck Jonathan, who also has maintained a consistent character both in the professional and political spheres and undoubtedly, for the love of country.
For whatever it may be worth, his story must start now. I want to join those who have proposed that he becomes the first African to be admitted into the hall of fame of great African democrats. Although some people are of the view that he should be second to Madiba Nelson Mandela, but I think that given his circumstances, he should be the first.
My reason is that Madiba did not wait to consolidate the popular governance by contesting and testing again, to either win or lose and in a case of loss, not only showing willingness to go, but also putting in check, those who would insist on continuity. But Dr. Goodluck Jonathan indeed contested, was declared loser and his magnanimity in accepting the verdict proves that he is a true democrat.
I do not know and cannot even imagine what would have happened if, Madiba had, by any means, recontested elections in South Africa and lost to the opposition. I should think that the story would have been sour. My comparison is only tangential because I recognize that Madiba and GEJ operated under different circumstances.
Dr. Jonathan came into the top political position in Nigeria in a very peculiar way. He was selected as the Vice presidential candidate to Late President Umaru Yardua in the 2007 elections. He was actually an experimental card, played by the then ruling People's Democratic Party (PDP) and after their success at the polls, President Yardua became ill and eventually the country lost him.
Part of the dignity and magnanimity of Dr. Jonathan started manifesting during the period of President Yardua's illness. He was practically humiliated by those who were then politically and rhetorically referred to as "the cabal." It took the efforts of few brave political office holders to set the flow of event right again and he eventually became the acting President, was later sworn in and was also going to win an election in 2011.
President Goodluck Jonathan has been deliberately humiliated and insulted by those he presides over, yet he maintains his cool. He has endeavoured to give consideration to all facets and interest groups, even individuals in his country Nigeria. He has never returned insult for insult, mischief for mischief, hate for hate, but has all along demonstrated that he is the father of the nation and as a father, is bound to accommodate children of sundry temperaments. He made himself available to serve all.
He would be willing to meet with farmers, traders, low level transport operators, women, youths, entertainers, students and one would never forget the historic 13 hour meeting with the Academic Staff Union of Universities. At a point, one would want to ask, what has he done wrong and the answer is he has not done anything wrong. Even in conceding defeat, he still has not done anything wrong.
At this juncture, some serious points need to be raised. I have interacted with many people in course of this presidential election and as a writer; I have also carefully noted their reactions. Virtually everybody believes that Dr. Jonathan is a good man. More than 60% of those who think so also want him out of his job. The reason is that his time is up and it is time for change.
I believe Dr. Jonathan did not catch that fever at all. I give one reason for this: he was advised by those who saw the need for change that he should change the Chairman of Independent National Electoral Commission, but he did not respond to change. He believes in progress, consistency and consolidation; then a need to watch before making a decision for change.
This is as a result of his experience as a scientist and a researcher. Nobody blames him for that, but in cases like he found himself, the humanistic approach gains ascendancy over the scientific method. It is therefore, not always gains. Sometimes one gains and sometimes, one loses. My own point is that whether in the advent of gains or losses, let love prevail.
May I now turn to the incoming government: APC, we hope that we shall be convinced, effortlessly, that you, too, have this love for the country. We want you to consolidate the gains of President Jonathan's Transformation Agenda. Please do not discard it. We want to still remain free. Do not take away our voices. Let Nigeria be for all and let it be so indeed.
By far the most important appeal by us is that your government, Oh APC, should not thrust aside the outcome of the National Conference. It is believed that through that conference, we have bared our minds on some thorny issues and have attempted resolving them. Honour this singular great enterprise of the outgoing government and Nigeria will be the better for it. God bless all Nigerians.