SOS to Kogi govt failed — Brother
By Bolu Obahopo, Lokoja
ALADI Sule lies critically ill at  the Federal Medical Centre, Lokoja, Kogi State.  Her body is wrapped  in bandage,  from the head to the chest. Part  of her back and  her right leg are socked in foil. One of her eyes has been "eaten" by acid and her right ear is  rolled into a small  ball. Aladi's critical situation is no  thanks to an  alleged angry ex-lover who  was said to have promised to destroy  her beauty and  fulfilled  his promise.
Two months ago, Aladi was a pretty lady in her community, Idah, the  headquarters of Idah Local Government Area of Kogi State. At  25,  Aladi's beauty was like a springing bud of  flower whose nectar was attractive to men. But that beauty was destroyed few weeks ago when the alleged  ex-lover bathed  her with acid and left her in agony.  A visit to the hospital showed  that  Aladi knew her body had been 'recreated' by the acid. However, she did  not know the degree of the attack.
She was yet to come to terms with the fact  that her right ear and right eye had been damaged  by the acid. Aladi, who struggle in pains to narrate the ugly incident, said was suffering because she failed to take serious the threat of her ex-lover, Kazeem Abdullahi, who, she alleged, had come to her fruits shop, to deal with her if she failed to pack out of the house he rented for her. Sunday Vanguard gathered that Aladi and the suspect  were secondary school lovers in Idah.
Shortly after their secondary school education, Aladi became pregnant for him in 2011, a  development that caused  Aladi to moved into Kazeem's  house. The pregnancy produced a baby girl. Unfortunately, the baby died shortly after her first  birthday.  Kazeem was said to have married another wife  in 2011 who also moved into the  house with them – that was the beginning of Aladi's travail.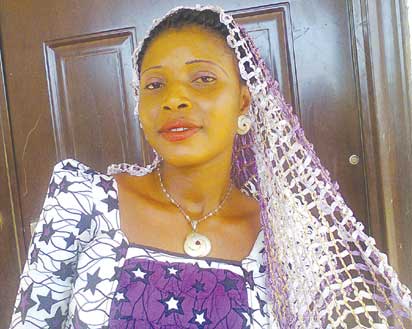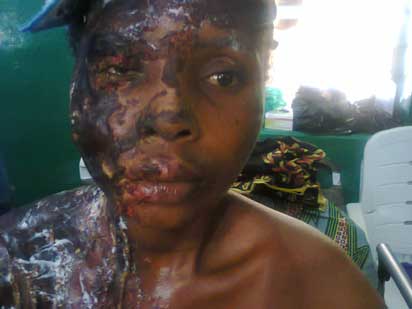 The new wife was said to have raised the alarm shortly after that Aladi was the reason she was unable to conceive. She alleged that  Aladi  had been visiting a neighboring community to affect her spiritually.
The second wife was also said to have alleged that the sudden disappearance of her clothes and other house hold items was a product of Aladi's spiritual attack; a  development that made Kazeem to send Aladi's away to her family house. Few months after, Kazeem was said to have  approached Aladi to return to the house. This time around,  Aladi's family kicked against it. The paternal uncle was said to have frowned against it.
He was said to have told Kazeem to prepare for marriage rites before he could get her back to his house. His position was hinged on the fact that Aladi was subjected to such maltreatment because there was no proper marriage between them. Kazeem promised to perform the marriage rite. In the interim, he rented a  house, for her. However, few months after, Kazeem was said to have recanted and said he was no longer interested in continuing with the marriage.
The family was said to have raised money for Aladi  which she used to start  the business of selling provision in the market in day time and, in the evening, retired to her street corner ( Bishop Junction) selling fruits.  Bishop Junction is a popular area of Idah with taxi and Okada riders using the place as their park. In few months, she was able to raise fund and was already planning to seek admission to the university. It was at this Bishop Junction that Kazeem approached her and demanded that she pack  out of the house he rented for her. "He told me to pack out, threatening to deal with me.
He said he was  going to recreate me and make me ugly saying it was because men were still looking at me that made me think I was pretty. He also said if I failed to pack out, he will deal with me and destroy the beauty that I was  using to 'pose' around town. I thought he was just jealous that I was  looking good and making progress with my business after he said he was no longer interested in me. I told  him it was  mere anger and I decided to ignore his warning."Aladi also said she did not bother to inform any of her family members about the threat until the sad event happened. Not done, Kazeem was said to have approached the land lady he rented the house from, urging her to send Aladi's packing.
The landlady was said to have informed him that she could not send her away on the grounds that she had been able to renew the house rent on her own. Kazeem was said to have stormed out of the building but not before telling the land lady to expect him back in a manner she will never forget. Two weeks later, it happened. Aladi said it was around midnight when she was sleeping at home with her niece  staying with her. Because of the heat, she decided to open her door; afterall, some  occupants of the building were also sleeping outside.   She said she was woken up by the sound of her niece struggling with a man  beside her on the bed."I saw my niece struggling with him.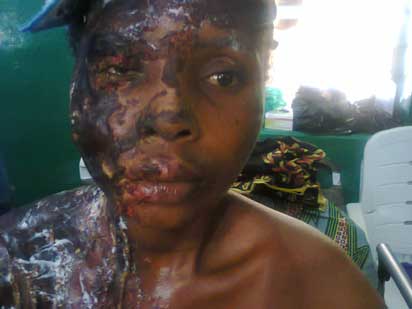 Kazeem was holding a container in his hand. Immediately I saw him, I began to scream his name but, before my shout could attract  people, he had already poured  the content on me. Immediately, it felt as if my body was set up on fire. I didn't know what happened next until I found myself at the village cottage clinic". The niece was also affected at the head as  the acid poured on her. It was from the hospital that she was referred to the Federal Medical Centre, Lokoja where she spent one month at the emergency ward before being transferred to the theater for her first surgery and now lies in  critical condition at the female surgical ward. Her sister, Fatima Sule, who is looking after her, said the family received  a distress call from a  neighbor, who heard her shouting and rushed to her room.
The neighbor was said to have seen a familiar figure bolting  out of the room, and, on getting inside, saw her with the acid sprayed on her body. They immediately rushed her to the village clinic. "When we got to the hospital I could not identify my sister again. Part of her body had been burnt beyond  recognition". The elder brother, Isiaka Sule, a VIO officer, who has been responsible for the medical payment, said it was around 2 o'clock in the night when her sister, Fatima, called him to say  their sister had been bathed with acid. Isiaka said the next day he and  some  family member went to the police station in the community to lodge a  complaint. But to their surprise, Kazeem was said to have been there to lodge a similar complaint.
But Kazeem, in his statement, told the police that he heard that a lady in her street (even though he allegedly lives  far away from the place) had been bathed with acid. He was quoted as saying he only came to the station to report as a good  citizen and because some people may say he was the one who did it. Aladi from the sick bed, insisted the estranged  lover was the person she saw on the day she was attacked. The police arrested Kazeem but  three days later set him free as his(Kazeem) parents promised to take care of Aladi's medical bill. The Sule family decided against pursuing the case in  court, opting instead to focus  on saving the life of their sister. "How can I have the  time, energy or money to go to court or continue visiting the police station when our sister is still lying critically ill in  hospital?
As I speak with you we have spent over N300,000 on her treatment. I have even taken a soft loan of N100, 000 from Sharp – Sharp. That along with the money from  sympathizers has all been expended. We have exceeded our financial limit,"Isiaka said. Aladi  still has a long way to go. The doctors  treating her said there are  two other surgeries to be carried out aside the fact that her right eye had been lost and the right ear eaten by the acid. Since the doctors could not get vein in her hands; they had to lacerate one of her legs in order to pass  drips. Aladi  fears she may not be able to walk again.
"All I'm after is to be able to walk again. Presently I cannot put  my leg on the ground . I know I am already disfigured. I also know that he (Kazeem) has  succeeded in his plan.I don't care about my body or look again; I just hope I can walk," she stated. The doctors however give a glimpse of hope. The laceration of Aladi's leg will not make her paralyzed. They said she will still be able to use the leg to walk again. The families are however  in the dilemma on how to raise money for the other surgeries and pay  medical bills that will arise. The efforts of the family to approach Kogi State Government through the Ministry of Women Affairs have not yielded  positive result. The family is appealing to individuals and  organizations to come to their aid to give their sister  'life' again. The family can be assisted through the following account:  ISIAKA SULE, U.B.A, LOKOJA,  Account Number: 2032301751.