By Esther Onyegbula
HRH Erelu Abiola Dosumu is one of the few Nigerian women aging gracefully, like a newly crowned beauty queen; she naturally pulls the attention of many at social events as she strutted in her trademark all-white regalia. A renowned advocate of Good governance and women empowerment, Erelu is also the co-ordinator of Coalition for Concerned Women for Good Governance (CCWGG) a project of ERAF foundation put set up to educate women on political issues as its affects them, monitor elected candidates in office and instill accountability  in elected officials.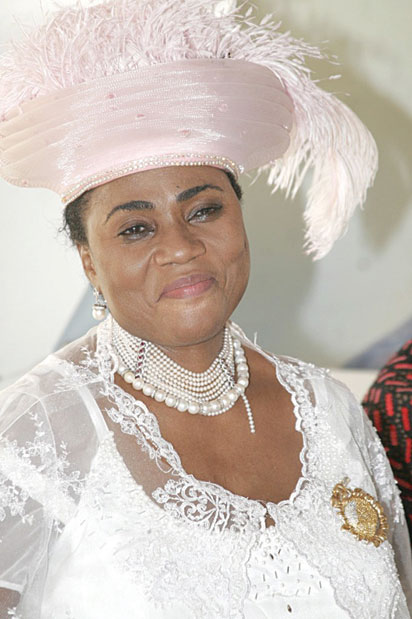 In a recent chat at the second interactive session with aspirants of registered political parties, women's organizations and other stakeholders she talks about the need for women to add value in their environment, the importance of voting leaders with integrity and other sundry issues.
Why this interactive session with women
This session is a clarion call for women to wake up from their slumber and rise up to the responsibility as nation builders. Our children have turned out the way we brought them up; some of them are definitely guilty of wrong doings. It is time we gird our loins and save the situation.
Women constitute the greater percentage of the actual voters on election's day and we are the ones who will queue endlessly in the rain and sun to cast our votes.
If violence should erupt we are the first to be affected by loosing our goods and our wares, even our husbands, sons and daughters (we have heard of young girls being used suicide bombers), I can go on and on.
Why then do we want to give up our enormous powers in return for a loaf of bread or at best N5000?
When you will not see those politicians that bribed you with pittance for another four years when they are seeking re-election. Even when you are lucky to come across them with that period they will not feel obliged to attend to your needs because you have been paid for services rendered.
What is the crux of this discussion?
Of course the crux of today's discussion is not different from what we have been doing. It is a follow up of the various enlightenment sessions that we have been carrying out with the women and the political aspirants seeking political office. The main purpose of the event is for the women to interact with the aspirants, not just the gubernatorial candidates but also the senatorial candidates.
We need to be assured that when the senators get to Abuja, they won't be pursuing their own agenda but will fight for the people and put structures in place to make our desires sustainable. Like the bill for the girl child needs a lot to back it up, as an instrument that makes it sustainable so that successive government would have a basis to continue to make policies not just things in the air.
Women need to interact with these aspirants; most times we often take them for granted by not focusing attention on them but they are the pushers in all of these matters and national development.
Most people allege that politicians seek political office to enrich themselves and not to serve the masses, what is your take on that?
Well, unfortunately we all know these things we see politicians who were either jobless or lived moderate lives within three months of getting into public office become laws and lords, high and mighty, adorning themselves with exuberant attires and jewelleries, when they are supposed to solve the problems of the people, identify with the people and make yourself accessible.
But because they appear like lords, kings and queens they immediately become unapproachable, thereby making it difficult for those they are supposed to serve to reach out to them.
Why women must endeavour to add value
I am one that believes that women should control their environment. They should work hard, earn their respect and not wait for token appointment. Because by the time they are given token appointment they have no choice to listen and jump at the master's voice.
It is okay for people to say we have achieved 30% affirmative action, but I strongly believe that is not the point. The point is that women should be empowered economically wherever they find themselves. Women should be in charge, be in control and add value to the society.
What is your score card for women occupy political office presently?
They have tried but I think they can do better. I want to see more women go into political offices from the position of strength as achievers themselves in their respective field not because they are representing the interest of those who appointed them. I said it earlier on that people should not wait to be appointed by anybody because then they will have to dance to the tune of whosoever appointed them and most time they don't have the freehand to perform. They can only perform within the opportunity that is given to them.
What is your take on the level of political intolerance eating up our polity?
Political tolerance is very important especially for a country like ours with so much cultural and ethnic diversity.  Which is why we are all complaining about the violence, lies and propaganda everywhere but I think it is a healthy development. Whatsoever negative things they do today would come back to hunt them.This will make them more careful. Having learnt this from the electioneering campaign and I hope that politicians have learnt their lessons too.
On election postponement
Some people said yes,others said no because of the postponement of the elections from the previous dates to the new dates but what I think the shift of the new dates has done is that it has shed more light on some of the lies that other people have lied to gain advantage, on the violence and other issues, the truth is coming out and people now know better as lies can't be sustained for too long. At the end of the day truth will catch up and over take it that is exactly what is happening now. Our politicians no doubt are learning a lot from all these.
Advice to women
I urge women to collect their PVC and guard it jealously; it is your veritable instrument to ensure the best leaders emerge for Nigeria. Do not sell it for a loaf of bread which will be your only democracy dividend for four years until the next elections. Choose wisely a leader that will build on the gains of our past leaders.
Vote for leaders that will ensure the integrity of Nigeria and protect the oneness and indivisibility of Nigeria, leaders that will ginger and encourage national pride in all Nigerians, leaders that will be true representatives of all that is good and positive about our states and nation as a whole, leaders that will showcase us for what we are, a nation of brilliant, enterprising people who are basically peaceful and keepers of their brothers.