By KINGSLEY OMONOBI-ABUJA.
Following the recapture of Gwoza from Boko Haram terrorists, Nigerian troops in cordon and search operations have rescues scores of elderly persons and women locked up while another bomb making factory has been discovered.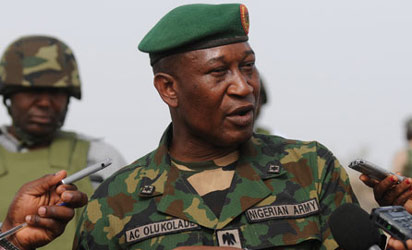 A statement to this effect from defence headquarters reads, "A number of women, the elderly and children who were locked up by fleeing terrorists in Gwoza have been freed by troops as cordon and search along with mopping up operations continue in the town.
"The freed hostages some of whom are so weak are being given medical attention while others are also receiving necessary care pending the arrival and activities of aid agencies.
"Some of them are also providing useful information for the intelligence in aid of troops operations in the area.
"In another development, buildings which have been converted to a bomb making factory have been unearthed by troops in the course of ongoing mopping up operations in Gwoza.
"The facility which is being used for the manufacture of various calibres of Improvised Explosive Devices (IEDs) is still being carefully evacuated of dangerous materials.
"Massive destruction of infrastructure and property including blowing up bridges and burnt houses including Emir's Palace have also been noticeable.
"Troops are also carefully removing land mines placed in various parts of the town.
"In Bama also in Borno State, troops on routine patrol in the suburbs of the town this morning recovered a large number of rifles and various arms believed to have been abandoned by terrorists who fled the area when troops were advancing to flush them of the town recently.
"Bama was liberated by troops on 16 March 2015 and troops have since been dominating the town with aggressive patrols to defend it against any further terrorists activities."