By Luka Binniyat
On Saturday, February 21, Zaria witnessed a record crowd, as thousands of people thronged the city to end Governor Mukhtar Ramalan Yero's   2015 gubernatorial rally under the flag the Peoples Democratic Party, PDP.
For the All Progressives Congress, APC, and the PDP, Zaria's   350,00 votes are of strategic importance, and of  huge  socio-political relevance,   being the birth place of Yero and his closest rival, Mallam Nasir el-Rufa, of the APC.
One of these men will become the next governor of Kaduna State   which has a landmass   equal the size of the six states of the Niger Delta, with estimated seven million people speaking 61 officially distinct tongues spread over 23 local government areas, LGAs, and where Islam and Christianity are most eerily balanced in Nigeria.
"I have never seen this kind of gathering in my life", said Air Commodore  John Ajeye (rtd), who had stepped down for Yero during the PDP gubernatorial primary election,  in a phone chat with   Sunday Vanguard last week.
"I was told that there was no time Zaria ever experienced that kind of crowd, since the burial of the mother of Gen. Yakubu Gowon (rtd) in 1972. It took us nothing less than four hours for the convoy of the governor to cover the three kilometers distance from PZ to Zaria city centre because of the sea of humans on the road", said Zubairu Ahmed, a  party official from Chikun Local Government Area, LGA,   to Sunday Vanguard in Kaduna.
El-Rufai spokesman,  Mr.  Samuel Aruwan, had, in a press conference, said the crowd molested the supporters of his principal and destroyed   his billboards. He said they were thugs.   But, Mallam Yakubu Lere, Chairman, Media and Publicity Committee of  Yero 2015 Campaign Organisation, also in a press conference, said el-Rufai supporters destroyed the billboards of his candidate in Zaria  and backed his claims with a video clip. The clip shows some youths molesting passers-by, bringing down billboards and narrowly lynching a man said to be a PDP chieftain in Zaria. He has to fire into the sky before the scores of broom waving and machete, daggers and  stick wielding, roughly-clad youths scamper away.
By all accounts, the alleged youths of APC on the video shown are surely a minority compared with the people that received Yero in Zaria that Saturday.
Yet, this was the same Yero who received a cold treatment by the same Zaria people at the 40th anniversary celebration of the turbaning of the Emir of Zaria, Alh. Shehu Idris. It was said that Yero was booed and the crowd chanted, "Ba mu so!. Ba mu so!" in Hausa meaning, "We don't want him! We don't want him!"
Yero's   remarkable recovery from his disadvantage to what looks like stardom status in Zaria and in   the many areas he was clearly lagging in opinion rating, has been attributed to a combination of reasons.
According to Ibrahim Galadima, a long time observer of political developments in Kaduna State, "one of the biggest undoing of the youthful governor has been the key persons that surround him. They are not grassroots oriented and they have done little in words and actions to promote some of the things he has been doing.
"The governor has also been a victim of very poor media and public relationship. Where he was lacking in direct engagement with  the press, his image makers have woefully failed to cover that deficiency. So it created the impression that the man was not doing anything at all. It implanted in the mind of the people that Yero did not have what it took to be a governor having arrived at seat   by   accident of fate.
"But, in the past few weeks, he has seen this problem and brought in new aides, politely keeping the former aides out of the scene.   Suddenly, the people have realised that he was not   the sleeping governor that was said of him. That he had actually carried out many projects,  programmes and developmental initiatives to a baffling level".
On his part, Zakaria Markus, a former critic of Yero, told Sunday Vanguard that he once despised the governor, but has now seen him in a new light.
Said Zakarai: "I was baffled to confirm that Yero has actually provided 14,000 jobs mainly in the educational sector. He has also approved that Kaduna State University, KASU, Kafanchan campus be made an autonomous Kaduna State University of Technology. I now know that he has huge interest in the educational sector, employing about 200 lecturers for KASU alone. He has also revived the overseas scholarship almost 20 years after it was cancelled.
"In his economic empowerment, he has provided 10,000 youths with skills and funds to start their own businesses.
"Why I am happy with him now is that the man he is contesting against does not believe in new jobs in the public sector. He believes that one consultant can do the job of 100 civil servants.   And he is ready to pay fabulous remunerations to engage them. I remember the lady and one guy   he employed to work with when he was the Minister of the Federal Capital Territory, FCT. They came as consultants.    The lady  had not served her mandatory NYSC and was paying them the sum of N19 million per month. I recalled the battle he had with the Senate over the matter and other issues. My eyes are now opened.
"I also   remember how he happily   accepted the job of being the Chairman of Public Service Rationalisation Team, PSRT, in which about 120,000 Federal Civil Servants were  sacked   between 2005 and 2007.
"In a country where one worker provides for scores of dependants, as Nigeria's only way of indirect social-welfare, I will never vote for anyone who does not see civil service work as a way of catering for the rest who government has refused to give any form of succor.
"I will not vote for anyone who will kill jobs instead of creating more. Many of us never saw it this way until now".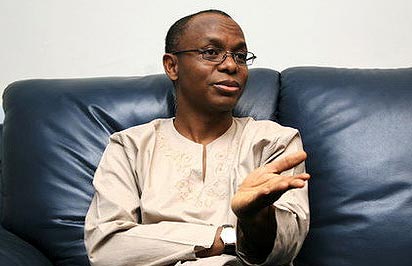 The camp of el-Rufai has also said the APC gubernatorial candidate will create new jobs and do more if voted. But, the inability of el-Rufai to explain, for example, the unprecedented demolition of homes and property in Abuja while serving as FCT Minister from 2003 to 2007 has created   fear in the minds of property owners in Kaduna State who do not have government documents of the assets; including thousands who intend to own    property in the future.
But where the debate on el-Rufai and Yero is reaching an emotional peak is Southern Kaduna.
Here,   el-Rufai has die-hard supporters, who would not hear of anything outside him. They had convinced quite a good size of the traditionally PDP voting area to the APC before now.
The   vexing areas to the people of Southern Kaduna under Yero   include   "uncompleted Yakowa roads projects"; the many murderous night raids on Southern Kaduna communities by suspected Fulani gunmen and his perceived, or real arrogance against the elders and peoples of Southern Kaduna.
The battle for the Sir Ibrahim Kashim house is only getting more interesting as no one knows what the el-Rufai camp is doing to turn the tide against Yero.