By Sam Eyoboka,
Sunday, February 15, 2015 will remain a day of indescribable joy for the leadership and members of The Redeemed Christian Church of God (RCCG) Praise Tabernacle, headquarter parish of Lagos Province 44, Surulere in Lagos, as the General Overseer of RCCG, Pastor Enoch Adejare Adeboye inaugurated the new province and dedicated the ultra-modern church building.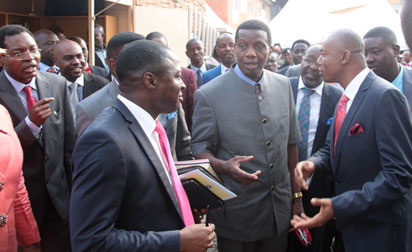 While congratulating the leadership and workers of the province for a job well done, Pastor Adeboye said the English people have a word for something that is beautiful even though small, "they call it cute. This one is cute." He also went on to describe the combined choir that ministered as "fantastic."
Pastor Amos Emovon, the Pastor-in-Charge of the new Lagos Province 44 welcomed the General Overseer, Pastor Adeboye and his entourage which included an Assistant General Overseer and his wife, Pastor & Pastor (Mrs.) Akindele; the Pastor-in-Charge of Region 19, Pastor Femi Atoyebi (SAN); the midwife of Lagos Province 44 and Pastor-in-charge of Lagos Province 23, Pastor Brown Oyitso and all other senior pastors to the dedication service.
In his welcome address, Pastor Emovon went down memory lane to 1996 when another parish of RCCG (Garden of Peace) brought Pastor Adeboye to the current location of RCCG Praise Tabernacle to pray over the two plots of land which they sought to purchase. Disagreement between the owners made it impossible to seal the deal.
However, God who is a master strategist, in 1999 ordered the steps of RCCG Chapel of Mercy to establish Praise Tabernacle in a site opposite the bungalow (9, Ebun Street).
The prayer offered by Pastor Adeboye over the two plots of land tied down the land for possession by RCCG. Eventually, Praise Tabernacle bought the two plots of land and erected the ultra-modern building.
Thereafter, they equally pur-chased the opposite bungalow where the parish started from.
As of today, RCCG Praise Tabernacle has an average attendance of 1,550 members. They have established several parishes in Nigeria and abroad including RCCG House of Praise, Praise Chapel, Sanct-uary of Joy (Nigeria); RCCG Praise Tabernacle (Togo); Praise Tabernacle (Mali); Praise Tabernacle (Entebbe, Uganda); International House of Victory (Moldova, Eastern Europe); Grace Sanctuary (Watford, UK) and Praise Chapel (Fredericton, Canada).
During the RCCG national convention in August 2014, Lagos Province 44 was created with Praise Tabernacle as the provin-cial headquarters parish with Pastor Amos Emovon as the pioneer pastor-in-charge of province.
Pastor Adeboye in his sermon titled "Except the Lord builds" with inspiration from Psalm 127:1, stated that no one can successfully build a house, be prosperous, stay healthy, be delivered/fruitful or be saved without the help of God.
Thereafter Pastor Adeboye released the father's blessing on all participants who had thronged all the adjoining streets waiting for the auspicuous moment.
Subscribe for latest Videos