By Peter Egwuatu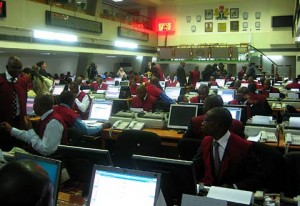 The Senior Africa Investment Analyst, Mr. Jude Fejokwu has said that Board members of listed companies on the Nigerian Stock Exchange , NSE that own or partly own stakes in brokerage firms and/or investment banks should be prevented from publicly disseminating equity research reports and related materials on the companies they are board members of using their in-house analysts.
According to him " Real life example: Chapel Hill Denham analysts should be prevented from writing reports on Lafarge Africa, Stanbic IBTC analysts should be prevented from writing reports on Cadbury and Nigerian Breweries just to name a few.
Why? Simply put, its a conflict of interest that places inherent doubt on the views that are held in the report by the "home base" analysts.
Secondly, the risk of unfair disclosure is high in which the analysts of the particular company may end up being privy to non-public information before the generality of the investing public or privy to information that no one else will ever be publicly aware of. This sets an unfair advantage and sets our stock market backward when information is not fairly disseminated."
Buttressing his view , he said " People (companies) get sick and then they get well (e.g. Forte Oil); sometimes, they get sick and then they never recover and die (e.g. Starcomms) Sometimes our blood pressure rises beyond normal and sometimes it drops below normal. My point here is everything in life has its ups and downs. Companies also have their ups and downs.
Owners and significant shareholders in Nigerian companies tend to forget this fact of life. Their companies have to always be portrayed on top when they are on top and also when they are down and business is no longer as smooth as a brand new dollar bill. Failure to adhere to this "Nigerian rule" is usually taken as a personal affront by the 'larger than life" owners of the companies in question and the analyst(s) now finds that there is an invisible professional enemy lurking somewhere hunting them in alleys and crevices.
A personal vendetta is now established between someone at the top and someone below; truth and fiction take center stage to determine who will stand taller at the end of the day. Owners/stakeholders should accept that businesses have circular life cycles (just like the planet we live on) and go through boom and bust cycles. Learn from these 'down time" experiences and change them; do not fight reality!"
Fejokwu, further stated that investment banks need to provide a deeper level of disclosure about the exact nature of the business relationship they have with a company and/or if they were paid in cash and/or kind to produce the particular equity research product in question each time a report is disseminated. According to him " In the first-half of 2009, Intercontinental Bank management was dealing with widespread speculation that the bank was in distress.
When the negative news refused to go away despite using a bevy of journalists to get out their positive message, management turned to Renaissance Capital Nigeria for succor. Management turned over their books to the Rencap analyst(s) who came out with a report stating in a nutshell that the bank is not in distress and we should all calm down.
A few months later in 2009, we all know what happened to the bank. Regardless of what people may think about Sanusi's taking over some banks and the intrigues surrounding it, my analyses in 2008 did foretell that Intercontinental Bank was a bank heading south. The events that befell Intercontinental Bank (as it relates to the bank's performance) did not surprise me one bit when it all came to a head."