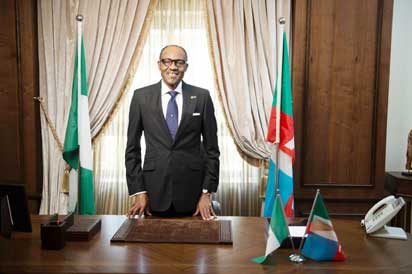 •Buhari: Decked out
*Says APC planning to attack Jonathan's private life through video documentary
By Henry Umoru
THE PEOPLES Democratic Party Presidential Campaign Organisation, PDPPCO, yesterday, alleged that leaders of the All Progressives Congress (APC) are planning to attack President Goodluck Jonathan's private life through a video documentary.
He also enumerated a litany of questions the APC Presidential Candidate, Major-General Muhammadu Buhari (retd) has to answer, which said were enough to disqualify him from the presidential race.
Addressing Journalists in Abuja, Director, Media and Publicity of PDP Presidential Campaign Organisation, Chief Femi Fani- Kayode said the APC leaders with the financial support of two serving governors and a former state governor are planning to put in place a documentary about the private lives of President Goodluck Jonathan, First Lady, Dame Patience Jonathan and Minister of Petroleum Resources, Mrs. Diezani Alison- Madueke.
Fani- Kayode described the move to air the documentary as despicable, wicked, with the sole aim of scandalising, undermining and bringing into disrepute, President Jonathan, his wife and Diezani- Madueke, adding, "The documentary is riddled with falsehood and it is vulgar, smutty, cheap, shameful and salacious.''
Speaking on the threat by the APC to drag Dame Patience Jonathan before the International Criminal Court of Justice, ICC, Fani-Kayode said: "We read, with amusement, the threat by the Buhari's Campaign Organisation through their spokesperson, Mr Garba Shehu, that it is their intention to drag the First Lady, Dame Patience Jonathan, before the International Criminal Court of Justice (ICC), for allegedly indulging in what they described as ''hate speech'' at a recent rally in Rivers State.
"It is pertinent to note that, first of all, if they were a little better educated and had a better understanding of international law and how the ICC works, they would appreciate the fact that no individual is ever taken to the ICC based on what he or she has said unless and until people act on those words and massacre others. It is only if that speech is followed by violence and mayhem or if it incites people to commit violence, which results in death, mass murder and crimes against humanity, that the person who indulged in such hate speech becomes an eligible candidate for the ICC….
"Dame Patience Jonathan is a woman of peace.
The truth is that if anybody is a candidate for the ICC, it is certainly not Dame Patience Jonathan, but rather General Muhammadu Buhari himself. We say this because, firstly, he needs to answer questions about his role in the July 29, 1966 coup and the mass murder of about 300 Igbo army officers, including a serving Head of State, that took place that night. Secondly, there are questions to be answered about his role during the pogrom and massacre in northern Nigeria in 1966 in which no less than 100,000 innocent Igbo civilians including women and children, were slaughtered in cold blood by mobs that were covertly armed and supported by a small handful of junior army officers.