By ANOZIE EGOLE
He may not have spoken with this type of anger before. Obviously, he is not happy with the Gov. Okorocha led administration in Imo state. In this interview, Chief Dr Achike Udenwa, a former governor of Imo state and also a one time Minister of Commerce and Industry under late Yar'dua, talked about prevailing issues in the state and the forthcoming general election.
After eight years as Imo state Governor and two years ministerial appointment, much have not been heard about you, what have you been doing?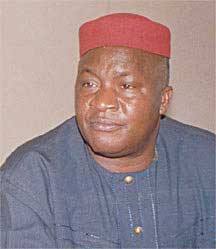 It depends. You have not been hearing about me maybe because I have not been making enough noise. But, I have been around.
What have you been doing since then?
I am a private man. Since I left as a minister, I have been a private man and still participating actively in politics.
In the last general election, in 2011, you contested for Orlu senatorial seat under the platform of the defunct ACN and now your are back to PDP. What happened between that time and now?
I joined ACN in 2010 and after the election of 2011, I remained in ACN. In fact, I was one of the founding fathers of what we call APC today. We had the initial discussions that finally led to the formation of APC. But shortly after the formation of the party, there were some differences between my group and some other groups especially in Imo state so we decided to go back to PDP.
What could the differences be?
It was not much but the issue was that the APGA elements in Imo state joined APC because the governor was with them. Together with the governor, they wanted to hijack everything and our people were not happy with that. It is not as if it was personal to me, but my group, the old ACN were not happy. So most of us left for PDP. After Mr. President had invited me and some others to join PDP, we considered that and joined the party.
Due to Gov. Okorocha's education policy in Imo state, it appears the APC is enjoying more support from Imo people. What is your take on the education policy?
Quite frankly, the support the present government is enjoying is misplaced. Misplaced in the sense that it has been based on deceit. Now many things are being done and crimes are committed and people don't know, people are not aware of what is happening.
For example, you find out that the Okorocha's administration is not really working if you consider the amount of money that is available to him. Since the present administration came into government, they have taken so much money. Most of the proceeds of the loan Ohakim took, came over to the present administration. They have this money and they have over N150 billion coming from the local government system plus the normal monthly allocation which is averaging about N5 billion per month. In our time you would be lucky any time you had up to N1.5 billion. They had all this money and the present government has been borrowing also. In our time, we did not borrow any money from any where. So he has so much money at his disposal and I can assure you that the bulk of this money the administration has at their disposal, he cannot account for it. A lot of it has disappeared in the system and he is doing a sort of public relations project.
The general hospital buildings in Imo towns even with the ones in almost every local government areas are dilapidated. Why not rehabilitate and re-equip them. He decided to build brand new general hospitals and each one is on the main road so that people will see it. Even if the hospitals are in the bush, people will not use them because non of them is completed. So, this is the type of project you will get from this government and people think that he is doing well. Come to the state capital, Owerri you have so many conference centers. What is he even doing with conference centers? These are not priority projects for the people. The yardstick to measure how good a government is will be to ask questions on the livelihood of the people. Are people today better-off than they were maybe eight years ago? The answer is NO. In our own time, we were receiving less than one third of what the present government is receiving but I can assure you that if you go out and ask an average Imo man whether he is better of now than then, you will get NO for an answer.
So most of the things that are being done are pure and complete deceit. Today, I can tell you that our governor has the best private residence I have ever been to in Nigeria as a whole. So these are things that happen everyday. Check the number of estates around him, check what they have acquired within four years. Then you will know whether an average Imo person is better off today than he/she was before.
Most Imo people have been saying that they are unfortunate when it comes to governance. According to them, since the time of Mbakwe, they have never had a dynamic government. What do you have to say about that?
Well, I do not know whether they are saying that. But I have to tell you that as far as we are concerned, this is the worst deceit we have had of a government.
No doubt during your administration from 1999-2007, you made conscious efforts to ensure that the state was counted as one of the neatest states in Nigeria, but now, the reverse is the case. Who would you attribute the blames to?
I think it depends on the priority of a government. In our time, we engaged ordinary people. We engaged ordinary women to clean the streets and from there they earned a living. Today things have changed just like what I am telling you about the present economic situation of our people. You talked about our own time, I am not here to praise my regime but at least in Imo at that time, we made sure that the funds we had, though little, went round. Today, you hear of a government importing school desk, uniforms among others. Does it mean we don't have tailors and carpenters in Imo state? How will the money flow down? Government does not give people money but by deliberate efforts and policies the government makes sure that whatever money available to it goes down even to the common man in the street. When we were building a secretariat here in Owerri as at that time, they were 10 blocks and we divided these blocks among local contractors from the 3 senatorial zones in Imo state. So the contractors will go home and hire labourers from their villages to come and do the job to earn a living. Even some youths who would have been miscreants, didn't have time to play pranks because they worked hard and earned their money and lived a better life. That had the double effect of one, improving their economic standard and secondly, bringing down the rate of crime in the state. Those were deliberate efforts of government. But you don't see that in Imo today.
Because, almost every contract that is being done in Imo state today is by one single construction company directly or indirectly. People of Imo state know these facts, they know that this government is not in anyway looking after their interest.
You said something about using a single construction company. During your administration there was this Monier Construction Company, (MCC), that was doing some major jobs in the state that time. It seems they are no longer into existence, why?
No, MCC did not do many jobs in the state. They did only a few jobs which I can even remember. We distributed the jobs all round at that time. Most of those companies not just MCC, are no more around. Because, what the present government is doing is to be using one particular contractor. The other indigenous companies are sub-contractors who are not doing any major jobs. Some of them are owed by the government. A lot of them have left on their own, living behind huge debts the government is owing them and that is the new policy in Imo state. And that is why we say that these deceit must stop. The people of Imo state are being deceived, they don't really see through what is happening.
Lets do a review of Imo state administration starting from your tenure. How would you assess the government?
I am not in the position to do that. It is not ethical for me to start comparing the past administrations. It is for the public to do that assessment and not me.
What do you make of the war of attrition going on between the President's hatchet men and APC's campaign organization over the later's presidential candidates? Would you say its healthy?
I was one of the people who conceived the idea of bringing smaller parties together into what we today know as All Progressive Congress, APC, and to me, it is healthy. That we have two major parties, even though we have many other smaller parties, gives our people a choice. And that will help to ensure that no party will remain complacent. Each of these two major parties will work hard to win because, one is as strong as the other one so they must work hard to win. What you are seeing today is not unhealthy, it is healthy.
Being one of the founding fathers of APC in Imo state, don't you think that would have given you a better opportunity of achieving your senatorial ambition?
No, there is nothing like that. Today, I don't have any ambition to contest for any position. It is not a question of party, I am not just interested in contesting. At least for now, I am interested in seeing how we can help our party to win the election.
The governor in Imo is APC member. Any hope for your party?
We are already working hard. The most important thing in Imo state today is to get the people at the grassroots to understand the real position and it is our duty. We understand the level of the deceit and misuse of the government fund. We understand the level of using our people, we understand the level of starvation our people are going through and we also understand the economic stagnation of the state. It is for us to make sure that the grassroots understand these things and it is unfortunate that many of them don't understand these things. We have made conscious efforts and its yielding fruits. People especially, the elites are beginning to understand these things.
The question you will ask yourself is, in Imo state who belongs to APC? 80 percent of politicians in Imo state belong to PDP. We understand that what is happening is pure deceit. But with the grassroots, it is difficult. One of the deceits being presented to the grassroots is the so called free education. Education is not free in Imo state. Anybody who is telling you that education is free in the state is deceiving you. It is not true because, education is free at the national level in the whole country up till JSS 3. What is happening in Imo state now is that the so called university free education is only applicable to Imo state university. What happens to the numerous Imo indigenes who are in other universities outside the state? And what this present government has done is to limit the admission of Imo people in IMSU. They now prefer students from other states, because they are not giving them anything. They talk about free education to Imo people yet they have reduced the number of admission of Imo people into IMSU, are we going up or down? At the same time, if you are told how much these children pay for both registration and acceptance fee, you will know that there is nothing free. We need to talk to the people and the parents and let them understand the deceit.
Now if you are admitting less Imo students into the state university, are you doing good to Imo people? The main aim of establishing Imo state university is to ensure that more of our people go to school. But because you say you are giving free education, you now cut down the number of Imo people in the school. It is all deceit. In education itself.
You said that the elites are aware of the deceit in Imo state, how do you intend to communicate this to the ordinary man on the street?
Exactly, that is why we are now doing a door to door campaign.
We have finished the rallies. What we are doing now is meeting people in their own homes through associations. We are meeting market people, artisans, and even the religious bodies and we are beginning to educate them. Many of them don't understand what is happening. So, what we are doing now is to educate them and we believe that once they know the truth, they will not touch anything APC in Imo state and it is paying off. I know in many places were I have engaged and talked to them, they said that nobody has told them all these things since. Go and see the roads constructed by the present state administration, some of them cannot stand two raining seasons. Some of them would be washed off after the first raining season. Are they the type of roads we need? We have roads that were built over 10 years ago and they are still strong without any maintenance. You now count that you have constructed 800km of roads while you have done nothing.
What are your post election plans?
I am still enjoying my private life. I must not be in any government position to survive but I am still a politician. I am still bent on giving my people the right direction. And that is why today, we are looking for that person who will be the governor of this state and be honest to our people. Not just one who is there deceiving the people, preaching to the people on one hand and on the other hand doing nothing. . We want to follow a leader who will tell us to go and he will follow us. That is the type of leader we are talking about. We are not talking of a leader in whose administration, there is no economic development in the state, there is nothing bringing in money in the state and the little money that comes to the state is just for the benefit of the family. With me as the former and the longest serving governor of the state, I will be doing a disservice to our people if I don't tell them the truth. It is my duty to tell them that these things happening to you are not good. And that is what I am doing.
If you are asked to predict the forthcoming presidential election, who do you think will emerge the winner between the ruling party, PDP and oppositio0n APC?
Well, I spoke about that recently in an interview and I made it clear that it is going to be tough and I am happy that it will be tough. But at the end President Jonathan will win because, he has the credentials to win. Its going to be tough and it is good to be tough so that whoever wins and gets in there will not take us for-granted.
There are strong speculations that there will be post election violence. As a member of the ruling party. How do we avoid violence?
I think that anybody who is thinking that way does not mean well for this country. Elections should not be a do-or-die affair and there should be no violence. If anybody wins, it is our duty to support the person so long as we see everything transparent.
Some people have been clamoring for Jega's resignation. What is your stand about that?
Jega is a man I know and have respect for but with some of the allegations that have been leveled against him recently, I feel personally disappointed. Now, North-east is a zone we all know that are on war and there are many displaced people yet they had one of the highest distribution of PVCs, how did it happen? Is it not a big irony, that people who have been displaced were the ones who have collected the PVC's most? About removing Jega, I don't know if it will be the best thing but if we find out that removing him will give us a free and fair election, so be it. Nobody is indispensable. If removing him is for the best interest of the country and not for any selfish reasons, we will do it.