By Daud Olatunji
ABEOKUTA—Former President, Chief Olusegun Obasanjo, yesterday, raised alarm of a rumour that  the Jonathan administration planned to hand over to the military if he loses next Saturday's presidential election, warning that this would undermine the integrity of Nigeria among the  comity of nations.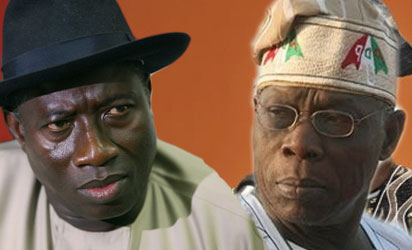 The former President raised the alarm while hosting the South West women of the All Progressives Congress led by the wife of the party's presidential candidate, Hajia Aisha Buhari.
Obasanjo had recently warned against introduction of Interim National Government  which he said could plunge the country into chaos in the same manner the former President of Cote d'l voire , Laurent Gbagbo did when he refused to hand over after he lost the election.
The former President said,  he was happy that Nigeria has gone beyond the rumour of Interim National Government, and expressed hope that the country will also survive the rumour of handing over to the military.
He explained  that the intentional community especially the African Union will neither  accommodate nor recognise any government that emerges  without the constitution of the country.
According to him, Nigeria has all it takes to dictate pace for other countries in Africa adding that Nigerians should blame themselves for where it is today.
His words: "I do hope we will get things more right. A lot of rumours are flying around, I think we have done away from the rumour of Interim Government because that is not in our constitution. I hope we will soon go away from the rumour of handing over to the military because the military is not meant to run affairs of a nation in terms of running government.
"And the intentional community will not condone it, particularly African Union where it is part and parcel of the constituting act of the African Union, that any government that is brought about, not on the basis of the constitution will not be accepted, will not be tolerated and will not be a member of the AU until that government is dismantled.
"It shouldn't be Nigeria, we are the largest country in Africa, we should be a model, setting examples, we shouldn't be drawing Africa backward, I hope we will not. I hope at the end of this exercise, we would be where we should be, leading Africa and showing examples for the rest of Africa and indeed the rest of the world.
"We have the goodwill of many people, I watched, last night, President Obama talking about our constitution, I watched our brother from Ghana,  the current Chairman of ECOWAS talked about our constitution, they are all interested, they all wish us well, should we wish ourselves anything less?,"he said.
Meanwhile, Obasanjo who also bemoaned hate campaigns among the political parties said political parties should focus more on what unite the country against what divide the country.
He said that,  issues of insecurity, economy, employment, amongst others should form the focus of the campaigns of political parties.
He however, called on women to take active role to make the country  a better Nigeria adding that they would be the greatest victims should anything go wrong in Nigeria.
Obasanjo said, "I am happy to hear directly from you, Mrs Buhari that the campaign so far, from the assessment has gone very well. May be I should say one or two things about campaign, I do hope that whatever happens at the elections, the one coming this week and the one coming a couple of weeks after that, that we would have learnt the right lessons from what has taken place this time around.
"Unfortunately, issues that should have been the main item of our campaign, are not being addressed. We have serious issues of security, we have serious issue of our economy, we have issue of unemployment particularly youth unemployment, we have serious issues of infrastructure, these are issues amongst others that I believe campaign of those who are interested in the present and the future of this country should be directed at.
"How are we going to get them, what are we going to do, not trivial issues of certificate, no certificate, not trivial issue  about someone being a Nigerian or not.
"I said it, this is what they had in Cote d'Ivore that led them into almost a very serious problem, not issue of religion, not issue of tribe, not issue of section but issues of unity of this country I hope this will be the last time in the history of this country that we will have this type of campaign of hatred or division.
In her earlier remarks,  Mrs Buhari described  Obasanjo as  a true nationalist, adding that Obasanjo acted beyond party level while solving issues affecting the country.
She said, "Baba exercises his prowess as a father, as a former head of state of Nigeria twice, very few Nigerians have the opportunity to rule the country twice, we are here today to show our appreciation the way you handle things as a statesman and also a nationalist.
"We thank you so much for acting beyond party in getting things right, thank you for that, may you live long to continue solving out problems."
Meanwhile, Mrs Buhari,  while addressing the people at the APC South-West zone Women's Presidential rally held at MKO Abiola International Stadium, Kuto, Abeokuta, lamented that her heart bleeds for the women in the North-East states of Yobe, Adamawa and Borno, who have had their husbands slaughtered by the Boko Haram insurgents.
She said "My heart goes to our sisters, daughters, grandmothers, and women in the North-East -Yobe, Adamawa and Borno. They do not have the opportunity of doing the kind of rally and enlightenment that we are doing today toward the elections.
"I am from the North-East, it is terrible for women to watch their husbands being slaughtered."
Aisha said if her husband is elected President, he would have zero tolerance for violence, most especially domestic violence against women and children.
She noted that her husband might not be rich but he had honesty and integrity.
She said her husband would establish a ministry for women and children if elected.
The wife of APC's presidential running mate, Prof. Yemi Osinbajo, Dolapo said a vote for Buhari and her husband "is a vote for a change for better things in the country."
She later told the women who had gathered at the event to pray for the nation to witness the kind of change they expected on March 28.
Ogun State governor, Senator Ibikunle Amosun, commended the women for their participation in politics, and urged those who were yet to collect their Permanent Voter cards to go and get them, and never to sell them.
He noted that the nation was at a critical stage, which required men like Buhari and Osinbajo, with necessary prerequisites for a period like this.
He said, "Where we find our nation at present, the best persons that can fix Nigeria is Gen. Buhari and Prof. Osinbajo."