By Henry Umoru & Joseph Erunke
ABUJA—Media mogul, Aleogho Raymond Dokpesi, yesterday, refuted the claim by Governor Adams Oshiomhole of Edo State that he (Dokpesi) went to the state on election day to induce voters with money to vote in favour of the Peoples Democratic Party, PDP.
He expressed disappointment with the attitude of the governor towards him on the said day, saying he had mistaken Oshiomhole for a decent man.
Addressing newsmen in Abuja, Dokpesi, who insisted that he was in the state on a different mission, regretted the comment by the governor, adding: "I made a mistake in my life in believing that Oshiomhele was a decent man."
Dokpesi said that on the day of the presidential election, at 5:20p.m., on his way back to Abuja, he received a distress call from one of the women leaders in Auchi, Hajia Hadiza Umoru, who said she was at Aibotse/Igbe Primary School, off Igbe Road in Auchi, adding that the incident led to him being shot at on the day of Presidential and National Assembly elections.
He said the bullets fired at his armoured Landcruiser vehicle would have hit him on the neck.
"As soon as I arrived the APC chieftain absconded and we waited for the reinforcement of policemen to protect the voters who were determined to vote. I stayed in my armoured Landcruiser vehicle with registration number Abuja YAB 173 HG. I never stepped out of the vehicle as everyone could attest to.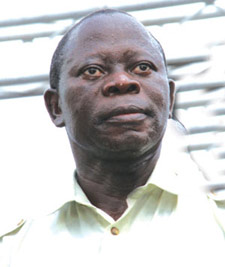 "A man who was later identified as the zonal chairman of the APC,  then called on their supporters to kill, burn and destroy the vehicle I was in. I pleaded that none of the military officers should shoot as thugs/hoodlums had begun to shoot at my car and haul various dangerous weapons at me."