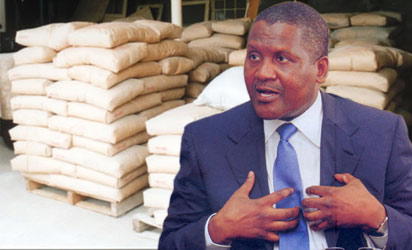 Aliko Dangote
Aliko Dangote
DANGOTE Group has called on private investors to invest their money in the real sector of the economy, especially in manufacturing and agriculture. Devakumar Edwin, the Executive Director of Dangote Group, who made the call in Lagos, noted that while government has a big role to play in formation of the right policy to encourage investors; the business community has a bigger role to play by moving away from importation to production.
"In this day of unprecedented continuous crash in the crude oil price at the international market and subsequent devaluation of the Naira, massive investment in agriculture and local manufacturing can save Nigeria's economy.
Nigeria has left its economic fortunes to the vagaries of the international market forces through excessive importation and it was high time private investors latched in on this situation and help the government out by investing seriously in agriculture and manufacturing," he stated.
Giving a practical insight into how good to invest in Nigeria, he pointed out that Nigeria has been blessed with what it takes for a country to succeed economically because the potential for growth in Nigeria is phenomenon. "The potentials and opportunities for business are phenomenon and Nigeria has a huge population with enough skills, with huge quantity of arable land and water and lots of raw materials and mineral resources, so you have a market because of the population, you have the people to produce, you have a lot of minerals which you can develop for export," he said.