By Innocent Anaba
A Federal High Court sitting in Lagos, Monday, restrained the federal government from deploying troops for elections henceforth.
Trial judge, Justice Ibrahim Buba also held that "It is unconstitutional for the Federal Government to deploy military for the supervision of election purposes without the approval of the National Assembly."
The judge in his judgment in the suit a House of Representatives member and chieftain of All Progressives Congress, APC, Mr Femi Gbajabiamila,  declared that the deployment of military for election as unconstitutional.
With the judgment, soldiers and military personnel may not be deployed for the March 28 and April 11, 2015 general elections, even though some states had been designated hotbed of violence few days to the polls.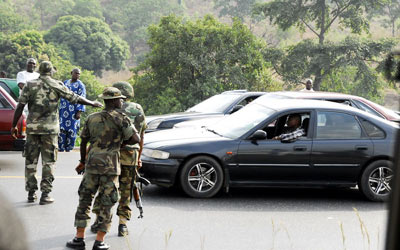 Gbajabiamila, leader of opposition in the House of Representatives, had gone to court, challenging the legality of troops' deployment for election by President Goodluck Jonathan.
Defendants in the suit were President Jonathan, the Chief of Defence Staff, Chief of Army Staff, Chief of Air Staff, Chief of Naval Staff and the Attorney General of the Federation and Justice Minister.
The judge added that a careful perusal and research into all the Nigerian laws would reveal that there was nowhere where it was stated that the President could single-handedly deploy military for elections.