There is tension in the opposition All Progressives Congress as a Federal High Court in Abuja, presided over by Justice Abdu Kafarati, has given an order for accelerated hearing in a suit brought by a non-governmental organisation, Global Center for Conscious Living Against Corruption, asking for an order of mandamus to compel the Inspector General of Police to investigate allegations of forgery and perjury against the party's presidential candidate, Gen Muhammadu Buhari.
In the suit number FHC/ABJ/CS/172/2015, filed by Professor Andrew Chukwuemerie, SAN, the plaintiffs are seeking the order of the court to order police investigation into the "alleged acquisition and possession of the West African School Certificate by Gen. Muhammad Buhari at Provincial Secondary School, Katsina in view of non-production of the said School Certificate of certified true copy thereof".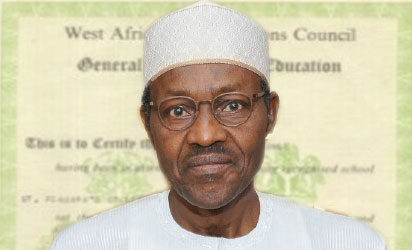 The court originating summons, supported by a 31-paragraph affidavit, sworn to by Joy Odoh, averred that the Inspector-General of Police has an obligation under the Nigerian Constitution to investigate allegations of forgery and lying on oath made against the APC presidential candidate and that the police had refused to do so despite repeated demands.
One of the exhibits attached to the originating summons by the plaintiff is a copy of a letter written by the Test Department of the National Office of the West African Examinations Council in Ghana which states that Buhari's name and records were not in its examinations archive thus suggesting that he was never a candidate for the examination set by the body.
The plaintiffs contended that Buhari lied on oath and ought to be tried for perjury when he declared in an affidavit submitted to the Independent Electoral Commission that his Secondary School Certificate was with the Military Board, a claim denied by the Board.
The group said the allegations of forgery and perjury were too weighty to be ignored by the police "which has a constitutional duty to investigate all allegations bordering on crime in the interest of justice and that all efforts made to make the police perform its duties have proved futile".
Meanwhile, subsequent upon an application by the plaintiffs counsel, the court gave an order for accelerated hearing and directed the Inspector-General of Police to enter his defence within seven days.
The plaintiffs are also asking the court to determine whether by virtue of the provisions of the 1999 Constitution and the Police Act, the Inspector General of Police is not duty bound to investigate the allegations especially when the APC candidate has not submitted either an original copy or a certified true copy of his secondary school certificate to INEC as required by law.