By Levinus Nwabughiogu
ABUJA–The Presidential Candidate of the All Progressives Congress, APC, General Mohammadu Buhari has returned to Nigeria from the United Kingdom early Friday morning, saying he was physically and mentally fit.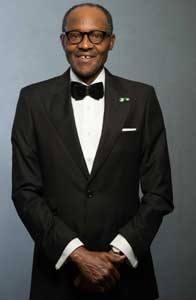 It will be recalled that Buhari left the country on Thursday, February 19, 2015 for London.
But the trip sparked off arguments about his health status with the supporters of the ruling Peoples Democratic Party, PDP, and President Goodluck Jonathan saying that he went for medical attention in London.
Buhari later appeared at the Royal Institute of Internal Affairs popularly called Chatham House, London on Thursday, February 26, where he delivered a lecture.
But arriving Nigeria at about 5:40 am aboard British Airways, Buhari who was claded in a black flowing gown with a flash of white shirt on the collar was ushered into the hands of waiting Journalists who had been keeping vigil at the Nnamdi Azikiwe International Airport, Abuja.
Asked whether he went abroad to seek medical attention, Buhari said he took some time off the campaigns to get some rest.
"I just went off for a couple of weeks to rest. That's all I did", he said.
Pressed further by Journalists on whether he ever visited any hospital while holidaying in UK, he said "What is wrong for me to go the hospital? Am I not here now? Aren't you seeing me? Are you seeing a sick man?
Also, on his appearance at the Chatham House, the APC presidential candidate said "I went to Chatham House. I read an address and there was a question and answer session. That's all."
Buhari who was accompanied back by his deputy campaign director-general, Senator Olurumbe Mamora was as well welcomed by a horde of other APC chieftains and supporters at the airport.