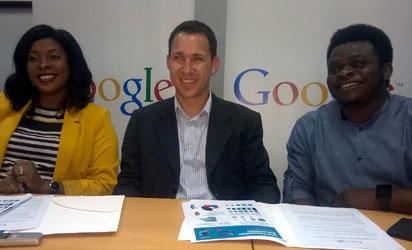 From left: Juliet Ehimuan-Chiazor (Google Nigeria Country Manager), Gur Biron (Google Sub Saharan Africa Lead), Taiwo Kola-Ogunlade (Communications & Public Affairs Manager Google West Africa) yesterday in Lagos during the release of Google's consumer Barometer on the use of internet tools. Photo by Emeka Aginam
By Emeka Aginam
While smartphones are becoming a vital part of online shopping across the globe as a result of mobile devices, new findings from Google's consumer Barometer tool released Wednesday has revealed that 85% of people in Nigeria use smartphones for product research as against 30% using computers and 6% using tablets respectively.
The content of the Barometer is based on two research studies conducted in 46 different countries, involving over 150,000 respondents.
The Consumer Barometer was launched in 2014 in Nigeria to enhance the understanding of how Nigerians and people across the globe deploy the internet for commercial activities.
Now in its fourth year, Google created the Consumer Barometer to provide professionals such as marketers with the latest consumer insights to support their devising of sales strategies and planning in a fast changing digital landscape.
The Consumer Barometer tool explores internet usage in Nigeria and also provides most up to date digital consumer insights across 46 countries.
According to the study, Nigeria is switching to online shopping as 45% of people researched their last purchase online.
" Are you advertising on every screen? 61% of Nigerian respondents found out about the product they last purchased on a smartphone only, 16% on a computer only.
"74% of Nigerian respondents used the internet for early inspiration and 49% to compare products during their last purchase"the study added.
Speaking yesterday in Lagos to give details of the study, Google Country Manager for Nigeria, Juliet Ehimuan disclosed that the Consumer Barometer remains the most comprehensive free tool for anyone looking to understand and compare how people use the internet around the world.
"For the 2014 edition, we worked closely with Hive, a London-based digital products and services design studio and the work involved 150,000 respondents in 46 different countries and profiled vertical sectors as clothing and footwear, home appliances, flights, hotels, cosmetics and groceries. Using state-of-the-art technology to crunch the mammoth datasets and make the interface feel more responsive and easier on the eye, we believe we've come up with our most detailed and user-friendly Consumer Barometer yet.", she explained.
Giving more insights on the shift to online shopping, Taiwo Kola-Ogunlade, Google's Communication and Public Affairs Manager for Anglophone West Africa, revealed that the shift would make the Consumer Barometer an invaluable asset to advertisers, agencies and journalists, who seek creative insights into the shopping behaviour of consumers in the country.
"Our research shows that smartphones are becoming a vital part of online shopping in Nigeria with about 85% of shoppers using them for product research as against 30% who used computers and 6% using tablets.
"Brands and their marketers are then likely to reach their greatest online audience by focusing their marketing communications on the smartphone.
The Consumer Barometer provides insights like this and much more. It is a free tool anyone can use to create and download customised data and market-specific information.
"These can help users discover anything from: how often people go online, to how many connected devices they may have, how people research and purchase online, the influence of online video on their shopping habits or the differences between generations and their online behaviour." , he explained.