By Benjamin Njoku
Foremost filmmaker and director, Zeb Ejiro, who has in recent times frowned at entertainers going into politics, has finally pitched his tent with the gubernatorial candidate of the Peoples Democratic Party,PDP, in Delta State, Senator Ifeanyi Okowa.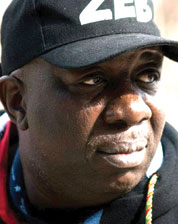 Ejiro said he decided to throw his weight behind Senator Okowa because he believes he has what it takes to take the state to the next level. Also Okowa's electoral manifestos, which he described as 'laudable and convincing enough' are part of the things that attracted him into politics.
The veteran filmmaker is currently functioning as chairman, Electronic Media Sub-committee of the campaign team of the aspiring governor. He breezed into Lagos last week, brandishing a copy of Okowa's programme of action.
Contained in the programme is his sustainable peace and active support for security agencies, attacking and combating crime at source.
Ejiro, popularly referred to as the 'Shiek', is optimistic that Okowa would deliver his promise, maintaining that with his effective handling of these sensitive and important areas, he would have successfully created an enable environment for all Deltans to be creatively engaged, thereby " promoting SME's as a medium of youth empowerment in addition to developing tradition, arts and crafts for tourism".
"Okowa, with an all encompassing programme, is a through person who would not ignore the health sector for agriculture sake. To show his seriousness and commitment, Okowa has pledged to pursue a legislation that will promote universal health insurance for all Deltans . This, he would compliment with provision of infrastructure, which caters for sound health of all Deltans" he said.