Dr. (Mrs) Julie Momah is the Centre Manager, Technology Incubation Centre, Lagos; Zonal Coordinator, South-West, Technology Incubation Centres in Nigeria and also the chairperson for Africa Incubation Network. She spoke with Vanguard Learning recently on the activities of the centre saying they encourage research and development results to be commercialised. Excerpts:
By Ebele Orakpo
ABOUT the programme: The incubation program is a Federal Government programme through the National Board for Technology Incubation. The idea is to see how we can bring ideas, innovations and technology to reality. If you have an idea that can go to the market, we help you bring it to reality.
We encourage research and development to be commercialised instead of gathering dust on the shelves. We go beyond indigenous technology, to medium and high technology by encouraging students to make their final year projects something viable that they can turn into a business. I told a youth corps member that instead of going to look for work, he should look round our centre and see the various businesses on ground and see whether his entrepreneurial mind will come up with some ideas, because the jobs are really not there.
Instead of looking for job, he can be an employer of labour. That is what the incubation program stands for.
Lagos Centre: The Lagos centre was established in 1993 and we have produced about four generations of graduates with over 80 products from R&D that have been commercialised and already in the markets. The products might look very simple but they are products of innovation.
Products of innovation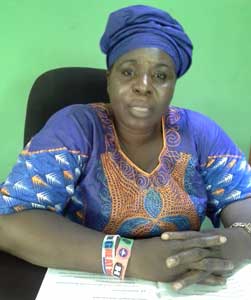 There is always a value addition to all our products which make them very unique. We keep to standard and certification is also important.
Admission criteria: You must have a registered company, a business plan and a feasibility of what you want to do. We use the business plan to guide you for the period you are here. We encourage you to have at least simple basic equipment to start the business. We want to know whether you are already an existing or new business.
Pre-incubation: We have a period called the pre-incubation period. After we have seen what you are doing and we have sent our request to our headquarters and they say you are to have six months pre-incubation, we monitor you for that period at your centre. We identify your challenges so that by the time you come in, we know how to nurture you.
Incubation:
We attach desk officers to each entrepreneur. They monitor your activities and we get weekly reports which we diagnose, look at the challenges of the entrepreneurs and see how we can help. At the end, we have monthly meetings with these entrepreneurs, we engage them in capacity-building, we train them in areas we feel they have challenges, we take them to trade fairs in and outside Nigeria, or go with their products if they cannot go.
Economic reconstruction
We provide access to finance, we facilitate all those agencies that can fund them knowing their challenges. We give them access to information on YouWiN, NERFUND (National Economic Reconstruction Fund loan, Innovation grant from the Federal Government etc. We let them know the relevant agencies they need to network with and encourage them to plug in themselves to these agencies like National Association for the Self-Employed, Nigerian Association of Small and Medium Enterprises (NASME) etc., all the relevant agencies that are into SMEs. We also link them to banks that are SME-friendly so that they have full knowledge of the art of doing business. You cannot do business in isolation. We encourage partnership, equity sharing, venture capitalists and angel investors to be part of your business; you cannot continue to call yourself a sole proprietorship if you want the business to grow.
Post-incubation: We look at how the business is faring after three, five years. Sustainability of the business is our success story. We have a tripartite arrangement where the federal and state governments and the private sector are involved. When we nurture you for three years, we hand you over to the state go` vernment.
At the graduation ceremony, the state government identifies these entrepreneurs and try to relocate them to a technology park where they form clusters. At the incubation centre, they enjoy some benefits like tax holiday but by the time they graduate, they pay tax to government. By the time they leave the centre, they may leave with more workers than they had before they came to the centre. It means they are already creating jobs so that is the effect of setting up incubation centres in the states to help them create jobs, nurture businesses so that wealth can be created and some other businesses will crop up where you have incubation centres. That is the vision of the Federal Government; to use incubation program to create jobs and diversify the economy.
Local content: The beautiful thing about the program is that we look at indigenous technology in the area of local content. At least, 70 per cent of the raw materials must be locally-sourced. Some of our products are made from locally-sourced materials and we look at not only the products, but the packaging, labeling and finishing so as to meet international standards. The ingredients, description on how to use it is there so that when you pick it up and you pick any imported product, they can stand at par.
We have over 30 technology incubation centres and some states are requesting for more because they have seen the advantage of the programme.
For those with ideas:
For those who are not in business but have some viable ideas, we use the six months pre-incubation period to find out how ready they are and encourage them to register a company, have a business plan for the idea and work towards certification. We use the pre-incubation period to help such people get the basic things so that by the time they come into the centre, it is strictly for business.