By Francis Ewherido
Like it or not, thanks to INEC, you would have been sitting at home praying the presidential election to be concluded early enough for you to make the most of St. Valentine's Day. However, the shift in the date is pleasant to lovers.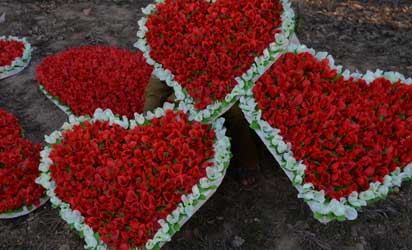 To help you plan what would be left of the day, I thought I would share this love-letter with you, to encourage you to perhaps write one!
Married for over 20 years, Bob confessed he'd never written a love letter to his wife because he thought mushy stuffs like that was a bit un-Nigerian, and unbefitting to a couple in their early 50s, with three children two of who are at the university. But put pen to paper he did and once he got started, he was chuffed at what he came up with: "My darling Eva, my very own wife," he wrote: "The great essayist Anais Nin once wrote that age does not protect you from love, but that 'love, to some extent, protects you from age.' That is what I feel, with all my heart.
At 51, I suppose I am in the earlyish autumn of my years. At any rate, if I were a tree, I'd be shedding a few rust-coloured leaves. But I don't mind. It will be fun to shed them together, and regain the independence we have before the children were born. Weekends away at the drop of a hat. Do you remember all those hats we used to drop?
I wondered, when contemplating this letter, whether to quote Shakespeare, who was so good at expressions of love. But using other people's lines, even Anais Nin's, is a cop-out. Besides, everybody's version of love is different.
Who honestly believes, as the actress Ali McGraw once put it, that love means never having to say you're sorry? I've said a million sorries to you—and you, getting on for, what, 11 or 12 to me?
Did that make you laugh? I hope so because for you and me, love and laughter are indivisible.
Ten years ago, when I wrote a book about our move from the city to the country, I dedicated it "To Jane, the wind beneath my wings, the compost beneath my beans'.
In some ways, that said it all. I wanted you to know what you meant to me, and what you have done for me, but I banged in a gag to pre-empt any accusations of soppiness.
In a way, I do wish I could reach for one of Shakespeare's sonnets to tell you how much I love you. And if I were to compare thee to a summer's day, it would be that early-evening but when I pour two glasses of chilled rose and we sit at the garden table, watching the dogs chasing each other round the lawn. One of those moments of such profound happiness that they elicit not a smile, but a sigh.
I know that writing a public love letter to me will make you wince, since you don't even believe in going out on Valentine's Day. I can't claim to be Prince Charming, either.
But I fancy you just as much as I did when I first sat at your desk in the newspaper office where you were Deputy News Editor and I was a novice senior reporter. Who'd have thought then that we'd end up making three children together?
More than two decades on, I'm still as beguiled by those amazing eyes as much as I ever was. More than anything else, though, I respect and admire you, for your interest in the world, for your wit, for your intelligence, for your incredible culinary skills, for your kindness to your friends, and above all, for your endless commitment, patience and resourcefulness as a mother.
I have to admit that when you were pregnant with our first born, I was worried. Part of what had so attracted me to you was your no-nonsense professionalism in the work place, and I didn't know what would replace that, when if only temporarily, you gave up work. It was hopelessly naïve to me not to realise that, overnight, your skills as a mother would seem more important to both of us than your skills in your job.
But then, it is hopelessly naïve of any couple to embark on a life together expecting it to be sun-kissed most of the way through. Yet, even in this peculiar age escalating divorces we all do it.
Well, I think our 20 years of marriage have, indeed, been more sun-kissed than not. That particular naive expectation came true. And even in times of drizzle, I have never wanted to share the umbrella with anyone but you.
I love you. And thank you, for everything.
Your husband, Bob.