By Henry Umoru
SOUTHERN leaders have reiterated why the Chairman, Independent National Electoral Commission (INEC), Professor Attahiru Jega, must as a matter of urgency be sacked, and be arrested, accusing him of conniving with Northern elders and leaders to rig Jonathan out of the February 14, Presidential election in favour of a northern candidate.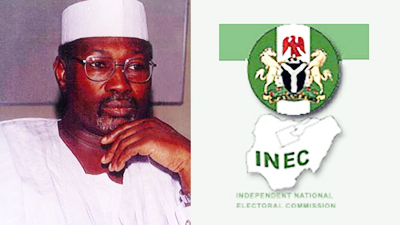 According to the Southern leaders from the South South, South West and South East geo-political zones of the country, Prof. Jega has betrayed public trust, respect and acceptance, sublime attributes that were required for an impartial electoral umpire as he was accused of hobnobbing with members of the Northern Elders Forum, perfecting moves to ensure that the Presidential candidate of the All Progressives Congress, APC was declared the winner of the election.
Led by former Vice President Alex Ekwueme; one time Federal Commissioner for Information and South-South Leader, Chief Edwin Clark; Arcbishop Ayo Ladigbolu as South East, South South and South West leaders, southern leaders on the banner of the Southern Nigeria Peoples Assembly, SNPA in a strong worded statement issued at a press briefing in Abuja noted that Jega was promoting an ethnic agenda by favouring the North against the South, with what they termed an unholy conspiracy between INEC and the Northern Elders to install a Northern president through rigging.
The statement was signed by Former Vice President Alex Ekwueme as the Coordinating Chairman and South East leader; Chief Edwin Clark who is the South South leader and Archbishop Ayo Ladigbolu who is the South West leader.
Also present at the briefing were Senator Femi Okurounmu signed the statement for Archbishop Ayo Ladigbolu; former governor of Anambra State, Dr. Chukwuemeka Ezeife who signed for former Vice President Alex Ekwueme; Senator Femi Okurounmu signed for Archbishop Ladigbolu; former Minister of Information, Walter Ofonagoro; a former Commissioner in Bayelsa State, Chief Whisky Ayakeme; Dr. Cairo Ojugboh, among others.
Reading an 8-page text for the SNPA, Senator Femi Okurounmu who stood in for Archbishop Ayo Ladigbolu, called for the postponement of this month's Presidential and general elections to allow for the Federal Government to reconstitute, reposition and reprocess INEC to enable the electoral body discharge effectively it's responsibility of conducting an impartial election.
According to the leaders, there were plans to rig the 2015 election hatched by the Northern Elders Forum, NEF in collaboration with Professor Jega led INEC, adding "As a responsible government agency, it is only germane that Nigerians, whose tax monies are used to fund its operations, are properly informed on these critical aspects of INEC's activities. We make bold to say that Prof. Jega has betrayed public trust, respect and acceptance, sublime attributes that are necessary for an impartial electoral umpire."
According to them, it became imperative for the immediate arrest of Jega over allegation that he has criminally mastermind the procurement of Permanent Voters Cards, PVCs for under-aged pupils in contravention of the provisions of the 1999 Constitution of the Federal Republic of Nigeria as Amended and the Electoral Act, 2010.
According to them, failure to sack Jega by the President as well as postpone the already fixed elections, the Sourthern leaders threatened that they would ensure that they employ and mobilize with all ounce of energy at their disposal to ensure that the people of the South West, South South and South East do not participate in the February 14 and 28 general elections, adding that if INEC goes ahead with the polls with Jega Presiding, "the consequences may be too grave for Nigeria to bear."