By  Sola Ogundipe
"I WAS just 23 weeks into my pregnancy when I began feeling severe abdominal pains that seemed very much like labour contractions," said Funke, a 28-year-old housewife.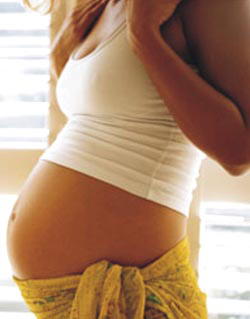 Initially, Funke, who was pregnant for the first time, tried to bear the discomfort, but the pains got worse and gradually unbearable.
"That same day, in the middle of the night, I began to bleed. I was really afraid. My husband was out of town and I had to alert a neigbour who rushed me to the hospital where doctors confirmed that my womb was contracting and I was experiencing labour.
"It was a bombshell. I was genuinely shocked because I knew it was too early for the baby to come. I became sad too because I knew something had gone terribly wrong. I really wanted to have this baby after trying for so long."
But the inevitable had happened and worse was to come. The doctors didn't beat about the bush. They gave her the cold hard facts. Babies born earlier than 28 weeks are considered unviable and are often not resuscitated, they explained.
They told the stricken woman that if the labour could be stopped or delayed, there would be no need for a Caesarean Section except it was medically necessary. And even if the baby was born normally, it probably would not receive or benefit from any medical assistance. It was a harsh, emotionless and almost cruel explanation, but it was reality.
Anna, 32, had a similar experience. She began to bleed after exactly 25 weeks and six days of pregnancy. Anna recalled the experience with regret.
"There was nothing I had done to provoke the incident. In fact, I had taken a couple of days off work to rest on doctor's advice and was at home, sleeping as I usually did in the daytime." Anna and her husband were extremely upset by this development as they had lost their previous baby at barely 22 weeks gestation.
"We rushed to the nearby local government hospital somewhere on the Lagos mainland, and I was immediately put on a drip in an attempt to try and arrest the labour. I was given an injection, referred and transported by ambulance to the Lagos University Teaching Hospital, LUTH, later that day when my condition did not improve.
"In the ambulance, my water broke and the cord prolapsed and I was rushed into theatre as soon as I got to LUTH for an emergency caesarean and the baby weighing 650 grams was born. Unfortunately, a heartbeat could not be detected and the baby was declared unviable."
Born too soon
Everyday, the stories similar to the ones told by Funke and Anna are told by millions of women all over the world. Good Health Weekly gathered that, indeed for hundreds of thousands of newborns in Nigeria, the day of their birth is also the day of their death. Most are born too soon when the guarantee of life comes either too late or never at all.
In this environment, premature or "preterm" birth, which is infamously the world's largest killer of newborn babies, is on the rampage.
A premature or preterm birth is a birth that takes place more than three weeks before the baby is due. Put another way, a premature birth is one that occurs before the start of the 37th week of pregnancy. Normally, a pregnancy usually lasts about 40 weeks. Premature birth gives the baby less time to develop in the womb.
According to the World Health Organisation, WHO, premature babies are defined as babies born alive before 37 weeks of pregnancy are completed.
The WHO adds that this equates to more than one in 10 babies – and the global burden of preterm birth is rising.
Although 60 percent of preterm births occur in Africa and South Asia, preterm birth is a global problem. In most of Africa and Asia, babies born premature have reduced chances of survival and even when they survive, they are forced to contend with life-long ailments and conditions.
"People think that preterm babies need intensive, high-tech care, but we have simple methods that really work and would save hundreds of thousands of lives," says Dr. Joy Lawn, a neonatal physician with Save the Children.
In the lower-income countries, on average, 12 percent of babies are born too early compared with 9 percent in higher-income countries. Within countries, poorer families are at higher risk. "These babies are born too soon, but they are not born to die. Their deaths are utterly preventable," Lawn noted.
Huge problem: Medical experts say there are an estimated 15 million moderate to late preterm births annually, out of which babies born between 32 and less than 37 completed weeks of pregnancy, constitute 85 percent or 12.6 million babies.
The experts argue that no less than one million babies born preterm die each year, yet 75 percent could be saved without expensive, high technology care.
In 2012, the WHO published with partners Born Too Soon: the global action report on preterm birth, which included the estimates of preterm birth by country. The health organisation is also implementing Every Newborn: An Action Plan to End Preventable Deaths, which was endorsed by the 67th World Health Assembly in May 2014. It is helping to highlight preterm birth as a global priority, and pushing for its inclusion within the post-2015 sustainable development agenda.
All these and more are the primary messages and motivating themes of World Prematurity Day, marked November 17, over the last three years, as a global effort to raise awareness of the deaths and disabilities due to prematurity and the simple, proven, cost-effective measures that could prevent them.
On that day, Nigeria and every country in nearly every part of the world, takes action to raise awareness of what can be done to reduce the challenge of preterm births and ensure better care for babies born too soon.
Lack of feasible cost-effective care
With 800,000 babies born prematurely every year, Nigeria has the 3rd highest burden of premature babies in the world after India and China.
Globally, prematurity is the leading cause of death in children under the age of 5, and in almost all countries with reliable data, preterm birth rates are increasing. According to data, in low-income settings, half of the babies born at 32 weeks (two months early) die due to a lack of feasible, cost-effective care, such as warmth, breastfeeding support, and basic care for infections and breathing difficulties. But in high-income countries, almost all of these babies survive.
Why preterm birth happens: Most preterm births happen spontaneously, but some are due to early induction of labour or caesarean birth, whether for medical or non-medical reasons.
Common causes include multiple pregnancies, infections and chronic conditions, such as diabetes and high blood pressure; however, often no cause is identified. There is also a genetic influence.
Speaking on the high incidence of death among premature babies in the country, a Consultant Paediatrician, and Managing Director, Outreach Children's Hospital Festac Town, Lagos,   Dr. Efunbo Dosekun, advocates that all hands should be on deck to effectively combat the challenge of prenatal death and foster better survival of babies born prematurely.
Dosekun, who says many premature babies die as a result of delay and other unhealthy processes they go through before adequate care reaches them, regrets that although the world is moving ahead in premature care, the reverse is the case in Nigeria.
"Preterm babies have so many problems, and we need to remember this vulnerable group. Nigeria has the greatest burden, with 800,000 preterm babies per year. But these are even the figures that are reported. You can imagine those flushed down the toilet in the villages or dying at home or thrown in the bush or dumped in the pit. It is actually a big issue that we must face if we are having such a high number.
Further, she stated that the mortality rate of premature babies the smaller their birth weight. "If we look at the extreme case, in sub-Sahara Africa, a baby that is less than 1,000 grammes may not be viable, and up to 90 percent of them die, yet the figure of those who die in the developed world is about 10 percent."
In Nigeria, there is a high death rate in babies less than 28 weeks. According to the Nigeria Society of Gynaecologists and Obstetricians, the period of viability of a baby that is below 28 weeks isn't guaranteed even though in developed countries which more advanced and sophisticated facilities and approaches, babies born at 24-25 weeks are regarded as viable. "However, this involves a lot of money, actually a huge sum to look after these tiny babies," Dosekun noted. "When we have these tiny babies, we should be asking how do we prevent people having premature babies, how do we ensure these babies are kept alive and well?
"Premature babies have a lot of developmental problems. They have learning problems, movement problems, visual problems, feeding difficulties, cerebral palsy, deafness, ulcers, scars on their limbs, etc.
Those who live up to early childhood have learning problems. Most premature children have learning problems at school age. They have attention problems, and other specific problems and they need quite a lot of support.
Dosekun pointed out that mothers of premature babies often go into depression because the babies are not feeding or growing well. "Such mothers have a sense of failure. It is difficult looking after the babies. There is a lot of anxiety till they attain the age of 10. Then one can a bit more comfortable.
If the hospital can give the best of care, and the parents are well supported in infancy and early childhood, and with the right vaccines, and the right stimulation, the child is able to improve developmentally.
What to do before pregnancy: Dosekun recognises benefits of the Nigerian "Calabar culture'. We have understood for years what the role of a woman is. I am not saying that we should fatten up our girls but what I'm saying is that the extra care being given to women should take on a new role. There is the preconception care. We are encouraging young girls to live healthy lives, not to smoke smoke, take folic acid one you are preparing to be a mother. There is less tendency to have spina bifida, cleft lip and hydrocephalus, take multivitamins, eat well, do not be malnourished and prepare well.
Further, she stated: "When you get pregnant, eat nutritious food, go for antenatal care so that if there are abnormal maternal conditions, they can be quickly detected. These include hypertension in pregnancy, diabetes in pregnancy, malaria in pregnancy, among others.
Essentially, a pregnant woman must attend a minimum of five antenatal care services. They must have their teanus toxoid injections, be given iron medicine and folic acid and Intermittent Preventive Medicine, IPT, as malaria prophylaxis.
Women who are pregnant should not work for too long hours or stand up for long hours, do not get involved in violent that can trigger trauma and terminatre preg.
Premature labour
Some women have a short cervix. The cervix is the lower end of uterus. Women with short cervix tend to go into labour quickly. Women with history of premature labour need a cervical ceclage to tighten the cervix. Once women are pregnant must take no alcolhol at all. The solution
Infection that advances into the uterus can trigger preterm labour. Multiple pregnancies have increased risk for preterm births. Other risks include maternal illnesses like cancer, mothers with reduced interval between babies, abnormal uterus, large fibroids, these are examples of spontenous premature labour, but there are times the doctor may need to induce the woman, for instance, if the mother has pre-eclampsia which can be dangerous to the mother's life, or if the placenta suddenly detaches, or if the protective
The solution: According to the WHO, more than three-quarters of premature babies can be saved with feasible, cost-effective care, e.g. essential care during child birth and in the postnatal period for every mother and baby, antenatal steroid injections (given to pregnant women at risk of preterm labour and meeting set criteria to strengthen the babies' lungs), kangaroo mother care (the baby is carried by the mother with skin-to-skin contact and frequent breastfeeding) and antibiotics to treat newborn infections.
To reduce preterm birth rates, women should have better access to family planning and increased empowerment, as well as improved care before, between and during pregnancies. But there are some conditions beyond women including from an abnormal foetus which is naturally expelled.
The big case of premature birth is infection in the uterus that leads to expulsion of the foetus. That is why you need to have good hygiene to protect you from bacterial infection. About 25-45 percent of Uterine Transmitted Infections, UTIs, suffered by pregnant women in Africa is due to cross infections or linked to peridental infection.membrane breaks, and starts leaking the waters, then it is better to take out the baby.