By Ekerete Udoh
Let me start first by apologizing for the absence of this column for the past two weeks. I was under severe weather related illness, but thank God I am now well..
Two weeks ago, I published on this page the sad story of the marital indiscretion of a married Nigerian nurse in Washington DC, whose boyfriend had so callously and maliciously recorded their illicit encounters and uploaded it on you tube, as a payback over a broken promise.
The woman's career, her family, marriage and all she had worked and toiled for in the United States came under severe jeopardy and she had to be on suicide watch, The underlying theme of that story was the decaying state of marriage among Nigerians in the Diaspora and how infidelity, emotional cruelty, the abandonment of Africans values and mores and the embrace of the more liberal, individualistic elements of the American culture, have severely affected the fabric of matrimony among our Diaspora Nigerians.
Since that piece ran, I have received so many stories of other Diasporans who have had their matrimonial dreams deferred or destroyed by such debilitating acts as domestic abuse, emotional cruelties, infidelities, and abandonment. Among the most distressing was the story of a New York based Nigerian lady who asked me to use her full details because "she has had it up to her throat" To protect her kids and other ethical considerations, I have elected to keep her full details off the story, but would use her first name`Charity'.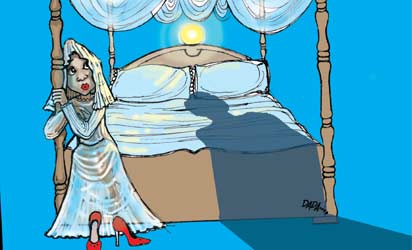 Charity's story is heart rending. Her husband is a pastor, who daily mounts the pulpit and exhorts congregants to forswear fornication and adultery but is, himself, immersed in the seedy and sleazy world of infidelity and debauchery. A father of four children, he has since abandoned his wife and kids and relocated to Nigeria and currently is married to another woman. "When I met and married my husband, I thought I was entering a matrimonial enterprise that will provide me a shelter for life; I thought the man I married, being a spirit-filled, prophetic-laden man, had an acute sense of right and wrong, and would never sacrifice the sanctity of marital vows", she started.
"How could I have remotely entertained such negative thoughts when my husband, who never drank alcohol nor appeared to indulge in any known vice, was in my opinion, an epitome of morality and good behaviour? A deeply religious man or so I thought, he started a church here in New York City and was seen as a major spiritual leader of our Nigerian community. Our children came in quick succession and, about six years after our marriage, we were blessed with four children and we couldn't be happier.
"Shortly after our last child was born, my husband started manifesting some strange behaviour. He started to abuse me emotionally and physically; he would talk down on me and screamed obscenities right in front of the kids. A home that was once the picture of peace and calm suddenly became a battle front of sorts, with verbal grenades and sometimes fisticuff flying all over the place. The kids were cowed and their exuberant spirit curtailed. They no longer knew who their father was or what had come over him. He would beat me up black and blue and would later that day mount the pulpit and preach to the congregants about living a good life and maintaining peace in the family. I would sit there seething and cursing at the audacity of his double-speak. Sometimes, I would feel like standing upon and confronting him right there that he was living a lie, but I decided to protect him, in spite of myself.
"Intimacy that was very strong and endearing bond between us, all but disappeared in the dictionary of our marriage. If I made any attempt to excite that passion, he would push me to one corner of the bed and told me to keep my filthy body to myself, and I would begin to cry. It is one thing for your spouse to deny you conjugal pleasures, but to call you `filthy' when he knew you were anything but such a description is enough to kill you. I was distraught and my job and career as a teacher took a beating.
I could not concentrate on anything, not even my kids received the kind of love and attention they were previously used to getting from me. I began to wonder what had gone wrong, but I couldn't put a finger on it. My husband just shut his emotions and erected a strong wall of projection against me. Tried as much as I did to penetrate it, the walls just won't open up. I became almost a mental case. Depression set in, psychological trauma became a daily companion and I began to experience all sorts of strange illnesses that I never experienced before.
"My husband became a sadist; the more pains he inflicted on me, the more pleased he appeared to be. He would saunter into the living room, and regard me with such cold stare that I would be wondering what I had done to earn such hate and vitriol. His kids would greet him, and he would just look at them, his flesh and blood in a very condescending manner. The shocking thing about all this was that he still preached at his church and members would go to him for counselling, and I couldn't understand what would motivate a man to live such a double-life.
"I remember waking up in the hospital surrounded by nurses and my kids and wondering how and what took me there. I was later told by my kids that I had complained of shortness of breath and I had subsequently slumped. If not for the quick arrival of the EMS, I would have died. I was taken to the hospital and was kept for observation. For three days that I was there, my husband did not show up, neither did he call to find out how I was faring. To him, I was better dead than alive and that's what his other woman, whose discovery had sent me on an emotional tailspin, wanted".
Next week: How my husband secretly married a second wife and became her slave