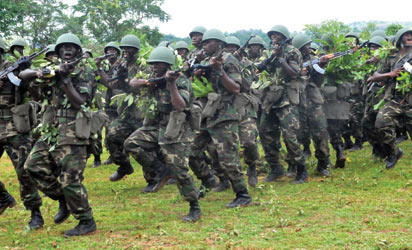 By Kingsley Omonbi & Ndahi Marama
ABUJA — The Defence Headquarters, yesterday, said the military killed over 300 Boko Haram terrorists and liberated 11 communities in the north east zone in the last two days. The Special Forces prosecuting the war on terrorism liberated the communities in seven local government areas out of the eight hitherto attacked by Boko Haram
terrorists in Adamawa State.
The local government areas fully liberated so far are Mubi North, Mubi South, Hong, Gombi, Maiha, Ganye and Michika while the only local government yet to be fully liberated is Madagali. About 30 civilians were also killed when an unidentified aircraft dropped a bomb on a Nigerian border village, military sources based nearby in Niger said yesterday.
Two military officials in the town of Bosso, where soldiers from Chad and Niger are massed in preparation for operations against Boko Haram, said the incident occurred in a village across the border in the Abadam area of Borno State. "We don't know whose plane it was. We understand that the victims are residents who were gathered for a ceremony but were mistaken for terrorists. Around 30 people perished," said a military source.
This was even as the National Emergency Management Agency, NEMA, said it had set up a committee to carry out assessments and determine the immediate needs of people displaced by insurgency who were returning to their communities after the restoration of peace and order by the military.
300 terrorists killed
However, in a statement signed by the Director of Defence Information, Major General Chris Olukolade, five different types of armoured vehicles, an anti-aircraft gun as well as 50 cases of packed bombs were recovered during the operation which led to the death of two soldiers and the wounding of 10 others.
The statement entitled, "Terrorists incurred heavy casualties in the two days of military operations to clear 11 communities," read: "Mopping up operation of some of the communities where terrorists have been cleared in the course of ongoing air and land operations against terrorists has indicated massive casualty inflicted on them within the last two days of the counter terrorists operations.
"Over 300 terrorists were killed while a few were also captured. Several weapons and equipment were also captured and some destroyed.
5 armoured vehicles, anti-aircraft gun, others recovered
"It has been confirmed that that five different types of armoured fighting vehicles, an anti-aircraft gun, about 50 cases of packed bombs and eight different types of machine guns, five Rocket Propelled Grenades, RPGs, 49 boxes of various types and calibres of ammunition as well as 300 motorcycles were destroyed in the fighting. "A total of six Hilux vehicles including those mounted with anti-aircraft guns were also destroyed. However, two soldiers lost their lives while 10 others were wounded in the course of the operation.
"The cordon and search operation is continuing along with aggressive patrols by troops who are now dominating the cleared communities. "The various phases of the highly coordinated air and land operations is also ongoing in the designated theatres being handled by contingents involved in the renewed counter terrorism campaign in and outside Nigeria."
NEMA to provide relief materials
Also, the Director General of NEMA, Muhammad Sani Sidi, who set up the committee, said that the agency would follow up with immediate provisions of relief materials to assist towards their rehabilitation. He said the committee had moved into the communities liberated from Boko Haram insurgents in Adamawa State.
Meanwhile, at a meeting with the Commander of 28 Task Force Brigade in Hong, Adamawa State, Brigadier General Victor Ezugu briefed members on successes recorded during the recent military operations in the state. Ezugu said that Nigerian troops had secured the local government areas and were firmly on ground, providing security, adding that people displaced by the insurgency were beginning to return to their communities.
Furthermore, leader of the committee, Musa Zakari, said his team would visit all the affected local government areas to assess the needs of the people for the humanitarian support, even as truckloads of relief materials have been deployed to some of the areas. Zakari said his committee had commenced the assessment at Gombi Local Government Area with a boost from the Minister of Youths Development and former governor of Adamawa State, Mr. Boni Haruna, who accompanied the team on the exercise.
The committee had previously paid a courtesy visit to the Lamido Adamawa, Dr. Muhammadu Barkindo Aliyu Mustapha at his palace in Yola. Some of the returned residents expressed appreciation for the restoration of peace in their communities and urged government to ensure sustainable security in the communities. They appealed to the government for more support to rebuild their damaged homes.
Us to help Cameroun army secure military hardware
The United States will help Cameroon's army secure equipment to fight Boko Haram, its embassy in Cameroon said, yesterday, as it deepened its commitment to countering the Boko Haram which had killed and kidnapped thousands in a six-year insurgency in Nigeria and are stepping up cross-border attacks on neighbours despite a major regional offensive against them.