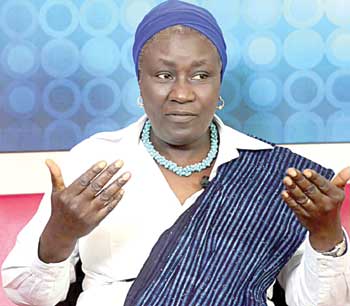 Remi Sonaiya
BY JOSEPHINE AGBONKHESE
Behold the only woman in the 2015 race for the lofty office of the President of the Federal Republic of Nigeria! Remi Sonaiya, KOWA Party's choice candidate for this Saturday's presidential elections, is a Professor of French Language and Applied Linguistics.
Born in 1955, Remi graduated in 1977 with a Bachelor of Arts in French from the University of Ife (now Obafemi Awolowo University) where she obtained the best result in her faculty.
She is passionate about issues of justice, equity, and Africa's development. Her interest in public affairs and development influenced her voluntary retirement from her over 30 years career at the Obafemi Awolowo University in 2010, in order to devote more of her time and resources to those pursuits. She is the author of Daybreak Nigeria – This Nation Must Rise! (2014) amongst others.
In this interview during an encounter in Lagos, Remi speaks on her desire to improve the lives of Nigerians as President while she leaves you to worry about her chances and the unpopularity of her party.
What's the meaning of KOWA?
KOWA is not an acronym but a word that can mean different things in different Nigerian languages. In Hausa, it means 'everybody'; meaning all of us are members. In Yoruba, it means 'let it (good life) come'. In Igbo, it means 'explain'. That can also mean 'openness and transparency'.
At what point did you decide to contest for the office of the president?
I cannot tell at what point. I just noticed there was no candidate I could support for that office. So, the question became 'why not you?'
But what gave you the courage despite Sarah Jibril's experience?
My party is not same as Sarah Jibril's party. I belong to KOWA Party, a party that does not have the same practices as Sarah's. If I had been in the All Progressives Congress-APC or Peoples Democratic Party-PDP, you wouldn't have heard of me. My party is a party where every single voice carries the same weight. We do not have king-makers and godfathers who decide what happens; I could not function in such parties. That was why I chose KOWA.
What has the experience been like since you won your party's ticket and launched your campaign?
Very fine! I've been running my campaigns the way I am able to, given the circumstances. I've been very active on the social being media and as a matter of fact, that has been the major and most effective platform for me because it doesn't require huge sums of money.
…and what has it been like as a woman in an unusual contest?
When I was sending in my nomination form, my gender was not paramount on my mind. "I am a Nigerian and this country needs fixing" was the only thing that reverberated in me. But of course, being the only woman in the race has sort of pushed me further into limelight. I'm quite happy and encouraged with how things have turned out, especially by the response of majority of Nigerians. Of course there have been those who out-rightly condemn the idea of having a woman contest for this position, but I am not discouraged.
So what's the inspiration?
It's really a desire to see things change. When you see so much suffering around you simply because the situation of the country is not what it should be, you get motivated to bring about a change. This is not the way Nigerians ought to live, given the resources available.
Women in the South-West are rooting heavily for you; what's your words to them?
Good for you if you believe in me, women! I just hope more people will root for me as well. If we really do want change, then why do we have to settle for less? In other parts of the world, people are taking very bold steps; why can't we take such in Nigeria?
What exact changes do you plan to bring to Nigeria if elected?
My party has pledged itself to rebuild Nigeria into a nation that works. This will not be an easy task, but we remain determined nonetheless. The Nigeria we envisage is one in which every Nigerian has access to food, clean water, decent education, good health care, and can live in a safe, peaceful and stimulating environment where he or she is guaranteed opportunities for self actualization.
I was a student at the University of Ife before lecturing there for 30 years and I must tell you that in those 30 years, things just went down and down instead of improving. Students now are not getting half as good the experience of university as we had.
You've always said corruption is Nigeria's major problem. How do we achieve the attitudinal change you preach with corruption being deeply rooted?
Look at what our present government told us; that we have entered a period of austerity. I would have suspected that they would start with themselves. They should come out and tell us the sacrifices they themselves in leadership are willing to make. That is the attitudinal change I'm talking about. That way, you and I will be inspired to also make sacrifices.
What qualities would you say make you distinct?
Hard-work, discipline and honesty. I hesitate at times of course but the question is: how will Nigerians be able to sift the wheat from the chaff? We've had promises upon promises all these years, unfulfilled. I fear God and I believe that a day will come when everyone will give an account of his or her life.
What's your assessment of governance in Nigeria and at what point did we go wrong?
I think the military really messed us up with people who had no business with governance coming to rule us. They established a trend of impunity and lack of accountability.
But the military has over the years blamed civilians for Nigeria's woes…
Go and research on Abacha's regime for example and find out how Nigeria's resources were mismanaged. They all did the same thing.
So what's the solution to Nigeria's problem?
Real change. Drastic change. Nigerians should be bold and shake off every fear. Do not say a party is not well known. In fact, where have the well-known parties landed us?