HAVING successfully completed Northpointe 1 Estate with 100 per cent occupancy, and an array of other ongoing housing projects located at various sites in Lekki axis at various stages of completion, Gran Imperio Group, developers and promoters of EssentialHomes brand is hopeful that it will deliver 1000 houses this year to bridge Lagos housing need which has remained on the increase.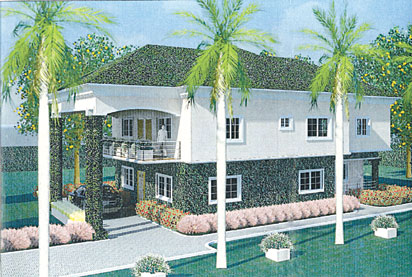 The Northpointe 1 Estate located within Northpointe 2 Estate and Mid-land Court Off Chevron Drive, Lekki, Lagos, comprises 24 units of semi-detached duplexes while the Northpointe 2 consists of 20 units of semi-detached duplexes. While the Northpointe 1 was delivered in June 2014, and fully occupied, the Northpointe2 was delivered last December with 30 per cent occupancy. The Mid-land Court which comprises 24 units of terraced town houses, is billed to be delivered this April
Other ongoing housing projects of the group include Lakeview Park 1, Southpointe phase 1 and 2, Golden Leaf Estate and Y'hello Estate. These projects are simultaneously being executed by Gran Imperio Group.
Speaking after conducting journalists round the various housing schemes last week, the Managing Director of the Group, Mr. Adeyeye Ogunwusi said his company targets to deliver a minimum of 1000 upscale but pocket-friendly housing units this year, pointing out that last year, the real estate development company of repute delivered 300 housing units.
Ogunwusi who disclosed that Y'hello Estate comprises 800 housing units while Golden Leaf Estate consists of 380 housing units which are expected to be delivered this year, said his firm is capable of delivering the targeted number of houses this year.
According to him, "Our objective at Gran Imperio Group is to start with starters' houses which are affordable. We will work towards satisfying our subscribers by providing upscale but affordable houses for our subscribers. We like to distinguish between completed development and successfully completed development. For us, a project is successfully completed when it is fully occupied".
The managing director who revealed his company has very strong and reliable mortgage banks and financiers, added that with what the federal government is doing in terms of mortgage refinancing, mortgage challenge which has been a major problem of housing provision in Nigeria, will be a thing of the past.
Explaining that Lakeview Park 1, which is site and service scheme, strategically located along Lekki-Epe Expressway adjacent Victoria Garden City (VGC), comprises 194 residential plots and over 30,000sqms commercial plots, Ogunwusi said the scheme has been completed, pointing out the phase 2 which is a gated residential community along Lafiaji Road, Lekki, designed with a natural lake, has 160 residential plots of different sizes and an area earmarked for commercial activities.
Commercial activities
He noted that at the moment, 20 buildings at phase 2 are under construction.
Speaking further on other ongoing projects by his company, he said Mid-land Court located at Northern Foreshore Road, Off Chevron Drive, Lekki comprises 24 units of terraced town houses, adding that it is a premium gated residential community offering spectacular ambience, detailed finishing, security and recreational facilities in an appealing environment. The estate according to him, is expected to be delivered in April this year.
Ogunwusi noted that "Delivery date for SouthPointe II and Lakeview Park II, which comprise 79 units including 32, 30 and 17 units of three, four bedrooms and town houses respectively, is April 30, 2015.
Golden Leaf Estate which is a joint venture with British-America Tobacco Company, located along Lafiaji Road, Lekki, is being developed. Upon completion, the estate will provide 380 units of different house types, including detached houses, terraced bungalows and detached duplexes. For ease of execution, the project has been divided into different zones with plans on the way to deliver the very first set of houses in a few months time.