By Ndahi Marama with agency reports
Maiduguri— The Defence Haedquarters, yesterday, said that soldiers had repelled Boko Haram new attack after a two-hour gun duel in Biu, Borno State.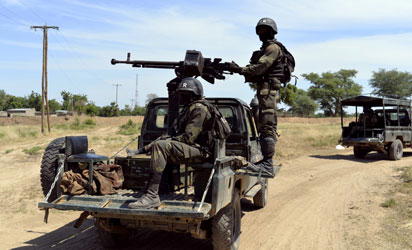 This was made known in its several tweets that the militants had been pushed back from Biu.
According to the military, the troops also captured two anti-aircraft guns belonging to the sect.
"Troops in pursuit of fleeing terrorists as mopping up operation is ongoing. Five terrorists have so far been captured," it said.
Residents in town, about 200 kilometres southwest of Maiduguri, the state capital, told AFP that scores of militant fighters stormed the town in 10 pick-up trucks at about 7:30 am, yesterday.
But they were intercepted by soldiers from a nearby barracks, leading to a two-hour gunfight.
"Soldiers opened fire on three pick-up vans carrying the gunmen that came as an advance party while the rest remained at a fuel station in Kigir village," a resident, Babagana Haruna said.
"There were 10 gunmen in each vehicle and all of them were killed in the rain of bullets from the soldiers," he said, although there was no independent verification of the death toll.
The Islamists' apparent target was the town's military base, residents said.
The remaining insurgents then arrived at the scene in vans and motorcycles and 10 more were killed, said another resident, Awwalu Yusuf.
Civilian vigilantes and soldiers pursued the militants into the bush and youths armed with makeshift weapons set up barricades across the town to prevent them from returning.
Biu is a religiously mixed town and the largest in southern Borno. It has been largely spared Boko Haram attacks on nearby villages in the past two years.
Boko Haram on January 3 carried out what is feared to be the worst atrocity in the six-year insurgency, when they attacked the town of Baga in the far north of Borno.
The military claimed this week that 150 people were killed but eye-witnesses and local officials report that hundreds, if not more, lost their lives.
Both claims are impossible to verify, with Boko Haram reportedly still in control of the town.