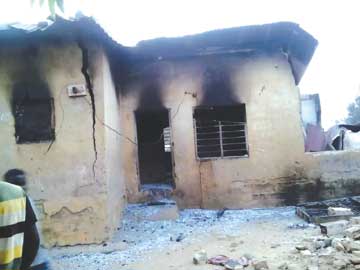 *The house where family perished
By Bose Adelaja & Monsuru Olowoopejo
LAGOS—The New Year celebration was a sour one for residents of 2, Morountola Street, Ijanikin area of Lagos, as a seven-month-old baby boy, Raphael Olawola, was reportedly burnt in a fire that consumed a bungalow in the area.
Meanwhile, the state also recorded no fewer than 14 fire disaster on the last day of 2014, destroying property, which value is yet to be ascertained.
The state fire service had last year revealed that 1,632 fire disasters were recorded between January and December 21, 2014.
The Morountola Street fire was said to have started in one of the rooms at 2a.m., when the unidentified mother was cooking in her one bedroom apartment, while the baby was asleep.
Eyewitnesses' account said the woman allegedly stayed back to prepare food for the New Year celebration, while her husband went to church leaving their son inside the room.
Tragedy was said to have struck when the cooking pot went up in flames, while the woman was engaged at the back of the building.
A co-tenant, who noticed the fire was said to have raised an alarm but the fire spread very fast and consumed the entire room within seconds.
Un-neighbourly
Vanguard gathered that the occupants of the buildings were not in good terms with one another, a situation which prevented quick response from co-tenants until the situation had got out of hand.
The Director, Lagos State Fire Services, Razaq Fadipe, who confirmed the develop-ment to Vanguard said his men got wind of the situation through a distress call.
He added that the fire had consumed the room before their arrival, but that the officials were able to curtail the fire from spreading to other apartments.
He said the building consist of six rooms and a shop, while the charred remain of the infant was recovered and handed over to the Police.
He said: "At 2: 07a.m., we responded to a distress call at 22, Morountola Street on Lagos/Badagry Expressway by Ijanikin, which is a bungalow building of six rooms and a shop, which fire was curtailed from spreading to other buildings.
"However, a male infant of about seven months old was discovered dead during the fire fighting operations and handed over to the Police from the Ijanikin Division.
"Our preliminary investigations reveal that the fire resulted from an in-room cooking, where the infant was also kept."
Other incidents
Some of the other fire disasters occurred at Gideon Schools, besides Isolo General Hospital, Isolo; two block of flats at Zone A, Iba Housing Estate, Ojo Local Government; another flat on the 6th floor of a nine-storey building on Mosley Street, Ikoyi, and a section of Apapa branch of Ecobank Nigeria Plc.
Fadipe said the agency responded to all the fire disasters, blaming the increase in the number of disasters recorded in Lagos on human errors.