As the year sets in with promising activities in the visual art sector, several art projects are lined up to make it a remarkable one. From all sections of the art industry, artists are gearing towards all forms of art workshops, exhibitions, festivals and seminars to foster the development of the industry. One of such projects that will raise the art industry and booster the image rebranding of Nigeria this year 2015 is the coming home to Africa for the first time, the iconic Martin Luther King Jnr. Statue which is expected in Badagry, Lagos, Nigeria.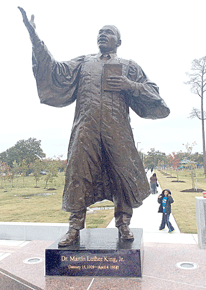 Overseeing the transportation of the artwork are a non profit organization known as the All Dreams foundation, a brain child of a US-based Nigerian in collaboration with the Greatland of Nigeria Resort, tourism based outfit in Badagry, Lagos.
The significance of Martin Luther King Jr. Statue coming to Africa is based on his unique ideology that Africans are one no matter where they find themselves. The human right activist who was assassinated pursuing the cause of justice and equality of all people and races became an icon of African heritage with his famous Memphis speech "I have a dream" where he foresaw lots of dreams, expectations and accomplishments for the black race. On the evening of April 4, 1968, while standing on the balcony of his motel room in Memphis, Tennessee, where he was to lead a protest march in sympathy with striking garbage workers of that city, he was assassinated.
African American's image today came to reckoning through his selfless sacrifice and this same fit is what his statue will represent and bring to Africa, on Badagry soil precisely known for its historic connections to Trans-Atlantic trade.
The statue is been sculpted by a famous Bini Sculpture, Austin Peters in Benin City, Edo State and supervised by Greatland of Africa Resort, Badagry where it will be erected permanently as a monument for historical purpose and art research.
Speaking ahead of the exhibition, the CEO of All Dreams Foundation, Sir Andrew Okokhere, disclosed that, "We will be taking the first Dr. Martin Luther King statue to Africa. Our mission is to become the catalyst in the effort of rebuilding African nations and the relationship with the United States through tourism. We firmly believe that using the unique opportunity of tourism will enhance peace between several nations by embracing their different cultures, as well as exchanging ideas. We will accomplish this by providing the avenue for cultural, educational and commercial enrichment."
Speaking further, he said that there must be change in Africa as from 2015 and this project will gear towards that changes which will reverberate throughout the world. He advocates that tourists should decrease their amount of travelling to the advanced nations while focusing on travelling within African nations instead. This initiative will encourage all citizens of advanced nations to start travelling to African countries to experience tourism, historical research, and educational programs.