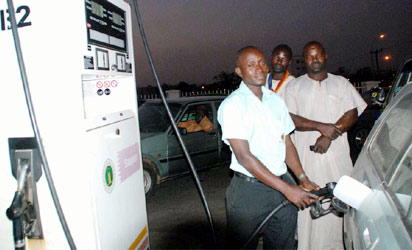 File: NNPC Mega Filling Station
By Emmanuel Aziken, Political Editor & Ben Agande
THE Federal Government  last night announced a reduction in the price of premium motor spirit  (petrol)from N97 to N87 per litre.
The reduction follows the crash in the price of crude oil in the international market.
The Minister of Petroleum, Mrs. Diezani Allison-Madueke, made the announcement on the Nigerian Television Authority, NTA, last night. She spoke from the presidential villa apparently after consultations with President Goodluck Jonathan.
She said: "I will like to announce the reduction in the price of Premium Motor Spirit by N10. Therefore, the reduction would be from N97 per litre to N87 per litre and this would be effective from midnight Sunday, January 18, 2015. In line with this I have directed the Petroleum Products Pricing Regulatory Agency, PPPRA, and the Directorate of Petroleum Resources to ensure that there is strict adherence of this regime as it takes effect from midnight Sunday, January 18. I do hope that the entire country will benefit immensely from this reduction of the pump price."
The price of petrol was fixed at N97 in January 2012 after the administration made an abortive move for the full deregulation of the downstream sector which initially saw petrol price rocket to more than N140 per litre. The move was challenged by a general uprising across the country led by the Occupy Nigeria movement which organised city shutdowns across some of the major cities in the country.
The move by the civil right activists was coupled by a general strike by organised labour.
The strike was called off on January 16 after the administration drew back from full deregulation and agreed to a reduction of the price to a fixed N97 that would be varied according to a template based on the price of crude in the international market