By Gabriel Ewepu
THE Minister of Agriculture and Rural Development, Dr.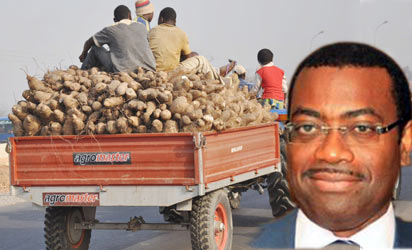 , said implementation of farm mechanisation policy under the Agricultural Equipment Hiring Enterprise, AEHE, will create 800,000 jobs.
Adesina also disclosed that President Goodluck Jonathan has approved N4.5 billion to implement an intervention scheme that will serve as a model for replication of the AEHE.
He explained that the 800, 000 jobs were for unemployed youth, and will serve as direct and indirect employment nationwide under the AEHE.
According to him the network of AEHEs will provide mechanisation services for 1,200,000 hectares of farmland, add an additional 4,800,000 mt of food to national food production, while 10,000,000 Nigerian farmers will have access to mechanisation through the AEHE.
He further stated that the first phase of this intervention will make available 590 units of tractors, 500 power tillers, and various harvests and post harvest equipment to set up 118 AEHE centres.
The Minister also expressed optimism that when fully these centres were comes on stream, the on-going mechanisation scheme will provide 1,230 units of tractors, 2000 power tillers and 3400 units of various harvest and post equipment such as rice reapers, grain threshers, cassava planters and harvesters, boom sprayers among several other equipment to set up 246 units of AEHEs in demand driven locations across the country.
However, the new mechanisation policy will be a Public Private Partnership, PPP, where the government will provide 35 per cent of the finance, financial institutions will provide 35 per cent, Agro-machinery Vendors provides 20 per cent, while Service Providers Operator (SPOs) makes available 10 per cent.