By Japhet Alakam & Chris Ochayi
LAGOS — Governor Emmanuel Uduaghan of Delta State, yesterday, said that a better Nigeria was realisable, as he called on Nigerians, irrespective of their positions, to work together to ensure that the dream was realised.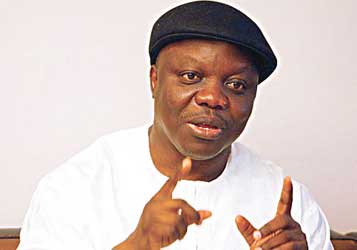 He spoke at a colloquium on 2015 Elections and The Prospects of a New Nigeria, organised as part of the launch/presentation of a book, The Pains of a Country, authored by Eddy Odivwri, Deputy Editor of Thisday newspaper at the Nigerian Institute of International Affairs, Victoria Island, Lagos.
Uduaghan, who noted that he believes that a better Nigeria was realisable, said the new Nigeria will provide employment for lots of unemployed youths.
Earlier in the colloquium which was moderated by Mr Gbenga Adefaye, GM/Editor in Chief, Vanguard newspapers, the discussants, Messrs Fred Agbeje, Goddy Uwazuruike and Robert Okpara, harped on the need for politicians to play the game according to the rules.
Uduaghan gives self pass mark
Speaking earlier at another occasion in Abuja, he said he had set a very high standard in managing democratic transition, as it was on record that only his state came out of the governorship primaries for his successor without any petition in the country.
Uduaghan, who gave himself the pass mark, while receiving the leadership of the University of Abuja chapter of Delta State Students Association, in Abuja, described the success of the party's primaries in the state as a very laudable feat worthy of emulation.
He enjoined the students to mobilise themselves and ensure that all the candidates of the ruling party at the state and national levels were returned in the forthcoming elections.
Uduaghan, represented by his Commissioner for Multi-lateral Relations, Mr. Joel Bisina, said he had been working with the PDP's state governorship candidate, Senator Ifeanyi Okowa, to set out a process for electioneering campaign to ensure that the ruling party, the Peoples Democratic Party, PDP, wins the election convincingly.
"This is the year of elections and Governor Uduaghan has set a very high standard in terms of managing democratic transition. In all the 36 states of the federation, it is on record that only Delta State was able to come out of all the primaries for a successor as governor without any petition. I think this is a very laudable feet worthy of emulation.
"Whether PDP will win is not an issue of debate, I think what we are really after is to win convincingly so that the new administration can continue and consolidate on the gains of the current administration and to carry forward most of the laudable programmes and activities being implemented in the areas of infrastructural development, peace and security as well as in the area of human development."
Unemployment cause of crises
Speaking at the Lagos colloquium, Uduaghan pointed out that a lot of crises in the country were caused by unemployment, adding: "When someone is employed and is busy, it will be difficult to get that person to be an armed robber or Boko Haram. When he leaves home at 5a.m., or thereabout to get to work early and he will come back late in the day, he will not have time to be recruited into such mess."
On issues raised by the discussants, Uduaghan disagreed with them that the February election campaigns were not issue based.
He said: "I don't agree that issues have not been raised in the campaigns. When we talk about corruption, insecurity, among others, they are issues and for us in PDP, we are looking at the issues raised.
"For example on corruption, something has been done, but they are saying that enough is not being done, same goes with security. What better things are we supposed to do? So when we look at their suggestions, we will add it to the ones we have and have a better Nigeria.
A new Nigeria is a collective one
"A new Nigeria is a collective one, for us to have a new Nigeria, we must walk collectively no matter your position to actualise that. As a political party, we are doing everything possible to make sure that there is no need for violence. We are talking to our people, followers and traditional rulers to educate the people on the need for that."
He also tasked the media to press it on Nigerians that election is not a do-or-die affair. Citing how he sacrificed his ambition of going to the Senate for peace to reign in his state, Delta, he appealed to all politicians to see it like that. Pointing out that election was just four years, he said: "If you don't get it this year, you try again."
On the author
Uduaghan who described the author as a worthy son of Delta State, said: "He is one of those who have kept me on my toes through discussions and write ups."
He commended columnists for their jobs, especially for finding the time every week to get something to write on.
The chairman of the occasion, a chieftain of All Progressives Progress, APC, and former governor of Ekiti State, Niyi Adebayo, who described the book launch as important occasions, said: "I believe that each one of us have a story to tell, so if all of us will have the opportunity to write a book, it will help us to defend our views."
In their separate presentations, the panellists agreed that the new or better Nigeria was realisable and that the things that bind the country together were greater than those that divide the country.
They asked the politicians to mind their utterances and also tackle the problems of insecurity, provide jobs for the teeming unemployed youths and provide welfare for the citizens.