The President of Living Faith Church (Winners Chapel), Bishop David Oyedepo, says the ministry has six million members in 147 nations across the world.Oyedepo made the disclosure on Saturday at a breakfast meeting with members of Omu-Aran Government Secondary School Old Boys Association (OGSSOBA) at the Landmark University, Omu-Aran, Kwara.
Oyedepo, the Chancellor of Landmark and Covenant Universities and also a member of OGSSOBA, said that the figure was ascertained at the recent convention of the church.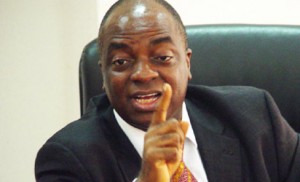 He advised members of old boys association to rededicate themselves to arresting infrastructure decay in all colleges and institutions across the length and breadth of the country.
Oyedepo said the task of improving the facilities in schools had gone beyond the sole responsibility of government, urging the old boys to be partners in progress.
"No amount is too small or too big toward the growth, progress and development of the schools," he said.
Mr Segun Adeniyi, the newly elected president of the association, described Oyedepo as a living legend of the nation's education sector.
He said that Oyedepo remained a role model to both the current and old students of Government Secondary School in Omu-Aran.
Adeniyi appealed to all members of the association to identify with the aspiration of the school in order to make it a model among its peers.
He commended the Chairman of the Caretaker Committee, Alhaji Jibril Haruna, for successfully organising the election and giving the association a new constitution.
Adeniyi was elected the new president at the association's annual general meeting held at the school's "Hall of Fame" in Omu-Aran on Friday.
Haruna, who is the Permanent Secretary Ministry of Tertiary Education, Science and Technology in Kwara, said he was grateful for the opportunity given to him to serve.
He also pledged total support to the new executive members which he urged to fully commence preparation for the celebration of the association's 50th anniversary coming up on May, 2017.
Among the newly elected officers are Otunba Jide Adebayo of NAN as 1st National Vice President, Alhaji Bode Durotoye, 2nd National Vice President, Remi Afolayan, National Secretary-General and Mr Kayode Mathew, the Group News Editor, Vanguard Newspapers as Public Relations Officer.