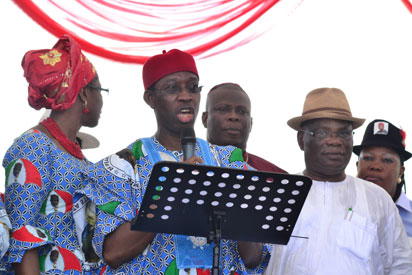 •Senator Ifeanyi Okowa flanked by his wife and Professor Sam Oyobvbaire during his governorship declaration in Asaba, Delta State.
By Akpokona Omafuaire
WARRI—THE Delta Political Vanguard for Okowa, Ughelli South Chapter, yesterday, in Okpare-Olomu, Ughelli South Local Government Area of Delta State, has declared its support for Dr. Ifeanyi Okowa, governorship candidate of the Peoples Democratic Party, PDP, in the 2015 general elections.
The group, made up of all PDP members also vowed to deliver all PDP candidates in the forth coming elections.
Dr. Amos Itihwe, Ughelli-South Coordinator, speaking on next year's polls, said: "I want to thank you all for the roles you played in ensuring Okowa's emergence. This is our project. Okowa is a detribalized Deltan and he has shown that in his dealings.
"I appeal to our people, the Urgobo Progressives Union, UPU, to reconsider its stand on the Uvwiamuge declaration of Urhobo governor and build bridges that will lead to the rise of Urhobo political fortunes again."
Itihwe charged PDP faithful in Ughelli South to do everything possible to deliver all PDP candidates at all levels as anything short of that will spell doom to their political careers.
He added that the group has set up machinery to reconcile all aggrieved PDP members who might be offended in the build up to the primaries.
"We want to go back to where PDP was in Ughelli South so that we can take our pride of place and achieve all what we want to achieve for Ughelli-South," Itihwe added.
The group appointed Chief Eric Obofukoro as Chairman, Elders Council to liaise with other elders in the area to ensure that objectives of the group were attained.
Chief Samuel Oboramohwoyeren, on his part, urged members to stand firm in order to deliver Okowa, appealing to aggrieved members to reconcile and march onward to victory.