Professor Yemi Osinbajo who was, yesterday, named as the running mate of the All Progressives Congress, APC presidential candidate, Muhammadu Buhari is a senior lawyer who earned a reputation for integrity and steadfastness in the country's murky political terrain. He brings to the ticket another dose of integrity that is already known about Buhari.
Osinbajo came tops after several rounds of meetings, yesterday.
A Senior Advocate of Nigeria, SAN,Osinbajo trudged the Lagos political landscape between 1999 and 2007 when he served as attorney general and commissioner of justice. Before then, he had served as personal assistant to the country's attorney general and minister of justice, Mr. Clement Akpamgbo, SAN.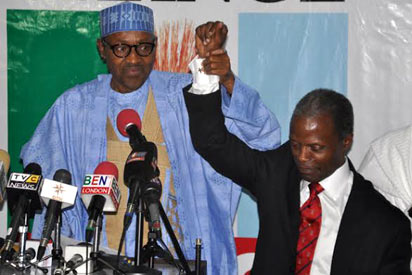 Though little known in the political world, Osinbajo has been a consistent ally of erstwhile Lagos State governor, Asiwaju Bola Ahmed Tinubu in whose cabinet he served for two terms.
He is highly respected for his knowledge of law, especially as an expert in the law of evidence.
He was formerly head of Department of Public Law in the University of Lagos. Osinbajo, who is an assistant provincial pastor of the Redeemed Christian Church of God, RCCG, Olive Court branch is widely known as a close associate of the general overseer of the RCCG, Pastor Enoch Adeboye.
His standing in the church is expected to give some measure of confidence to especially northern Christians and others who may have viewed Buhari in the eyes of his critics as a religious extremist.
He is also said to be close to Pastor Enoch Adeboye, the General Overseer of the RCCG—one of the leading pentecostal churches in Nigeria with large followership across the country.
Osinbajo, who is a Senior Advocate of Nigeria and Senior Partner in the Law firm of SimmonsCooper Partners, is also the Chairman of Board of Trustess of Redeemer's University.
Osinbajo is married to Oludalapo, a grand-daughter of the late Chief Obafemi Awolowo. He provides an interesting nexus for Tinubu, Buhari to meet the late sage, Awolowo.