By DAMILOLA SHOLOLA
Omokehinde Oluwadamilola  Bankole, known to friends and fans as Sexy Winger has got the looks and the brain. The Moshood Abiola graduate of mass communications found her way into the make-believe world riding on the back of Muyiwa Ademola who gave her first script. Kehinde has featured in many films and has produced a handful of hers as well. She is currently working on her newest effort Venom, a film she said would set her back by several millions.
In this chat with Potpourri, the busty actress talks about her relationship with her boss, Muyiwa Ademola, her career and more:
When did you start acting in movies?
I started acting in 2008, I have featured in so many movies and I have my own movies too.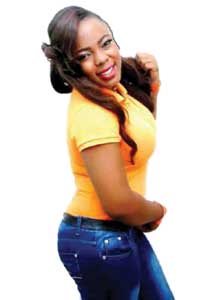 Are you currently working on any movie?
I've been trying to work on one now but there are so many. The one I'm currently working on is called Venom.
Why did you decide to be an actress?
I have always loved entertainment but acting is my first love. I chose acting to satisfy a childhood yearning. Though I love every aspect of entertainment, it is acting that does it for me. The other aspect I am also into is make-up, I am a make-up artiste.
How has the journey been so far?
We thank God. It has been good, it has been fantastic so far and it can only get better
Have you encountered any problem so far?
In this job of ours, you cannot live without encountering problems. But I thank God each problem I encounter I have been able to surmount. Sometimes we create problems for ourselves when there are no problems. I believe you see problems or obstacles when you want to. What someone may consider a challenge to another person it may be an opportunity.
What has been the most challenging movie you've worked on?
Every movie comes with its own challenges. There is no movie that doesn't come with its own challenges but I have never seen one I can't handle. Though I will say Kadara Temi and Venom stretched me to some extremes but definitely not to the extent of helplessness. I am yet to see the most challenging movie of my career.
Where did the name 'Sexy Winger' come from?
Sexy Winger, it's a name given to me by a friend when I was in Secondary School. One day in my secondary school, I went to the boys hostel just to play with them and I met them playing a Playstation game on football. Though I didn't know anything about the game but I wanted to play and asked them to let me play with them. They said before I could play I should tell them the team I belonged and I told them it's Arsene Winger. They started laughing and making jest of me by calling me 'Winger'. Before I knew what was happening the whole school started calling me 'Winger'. Later, I fell in love with the name myself and later on added 'Sexy' to make it sound better. So, that's how the name 'Sexy Winger' came about. It is even the name of my company.
What are the titles of the movies you've done?
I have featured in popular movies like Omoge Animashaun, Ilewura, Okufa, Nino, Jenifa and Igboya. The ones I produced myself include Asiseko, Ayomo Ife, Iyande and recently, Ife Oju and Venom.
Have you worked with any big artistes?
I've had on my set the likes of Mide Martins, Muyiwa Ademola, Fathia Balogun and a host of other big names.
Where do you see yourself in the next few years?
I am seeing myself as a superstar because I've been working hard, struggling and fighting to be among the very best in the industry. With God on my side I am already a superstar.
Has anyone ever harassed you sexually in the industry ?
Sexual harassment is a common phenomenon everywhere you have men and women working together. Sometimes the word 'harassment' is misused. If a man approaches a woman to date her, would you call that sexual harassment? I have dated a movie director before and I wouldn't call what happened between us sexual harassment. Now, some people are even saying I am dating my boss, Muyiwa Ademola because of the closeness between us. But I am not dating him, Muyiwa Ademola doesn't date people he works with. He is not my lover, we are only very close as friends and colleagues.
Has anyone ever embarrassed you over your boobs before?
I have my body and no one has ever embarrassed me. If I'm wearing a cloth that is open a little bit, it is because I choose to wear it and I don't feel embarrassed about it
How far can you go in interpreting a role?
If you mean going nude or something like that, I can't do it. But any other thing goes. I can kiss, I can do romance scene, I can do many other things before the cameras but going nude is not part of them
What do you like doing when you're not working?
I like putting stories down and I'm also into scriptwriting. Apart from those, I like being with friends and I also like to meditate.
What's your take on sex before marriage?
Sex is a thing you can have anytime; it doesn't have to be after you're married. When I'm with my guy and we feel like doing it, we have it and we are about to get married