APGA is better with Peter Obi's exit
National chairman of All Progressives Grand Alliance, APGA, Sir Victor Umeh is aspiring to represent Anambra Central in senate in 2015. In this interview, Umeh, who was also a member of the recently concluded National Conference says he has no apology to offer those who think that he has domineering Igbo character. He also spoke on why he wants to be a senator. Excerpts
By Vincent Ujumadu
HOW has it been since you declared your intention for the senatorial race?
Since I accepted the call of my people to contest the Senatorial election for Aanmbra Central Senatorial District, a lot of people have been excited by my decision to run for that office.
Unlike what people would trivialise as a political play that nobody asked me to come, I was under immense pressure from  the people of my state, my party members, particularly, people from Anambra Central Senatorial zone, that I should contest this election on behalf of our party.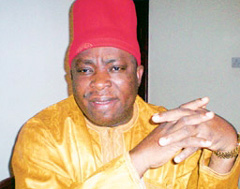 Some of the reasons they gave me included but not limited to the following: that APGA has not produced a Senator from Anambra State since its existence even though the party has been in charge of  the government for eight years. Many people considered it not good for the party.
Secondly, they urged me to run because they felt I would present a good face for the party and the Igbo people at the National Assembly, going by what I have represented in my political life over the years.
Championing the cause of Igbo
They became more desperate  to urge me to run after I participated in the National Constitutional Conference, where I was everywhere, championing the cause of Igbo people and fighting for entire Nigeria in terms of pushing for something that will make Nigeria a more functional nation.
The  other reason is that they have not been happy with the way the Anambra Central Senatorial Zone was being represented at the Senate by Dr Chris Ngige. They considered him to be a shadow of himself.  At the National Assembly, they expected a more vibrant representation from him, going by his antecedent but suddenly, he was swallowed  at the chamber of the Senate. So they expect that there was need to have somebody who cannot change colour, when the person goes to the National Assembly and they forced me to step in.
So, I accepted to do that and since I accepted to run, it has been endorsement galore from all parts of the state, both youth organizations, children, womenfolk, community leaders and all categories of persons have been rejoicing that am there.
Some people are of the opinion that considering your outspokenness at the national conference, you may also become controversial in the Senate if elected. 
No, it cannot be so. First of all, the National Conference was convened on the representative arrangement. People were called from all parts of Nigeria to the National Conference to come and contribute their own ideas in the national dialogue. The essence of National Conference was to fashion out a way of  resolving the agitation that had held Nigeria down over the years. The initiative was to cure Nigeria of its present structural imbalances and marginalization that some  parts of Nigeria have been suffering.
As an Igbo man who arrived at that National Conference, I went there with the mindset that my people have been badly treated in Nigeria over the years.
The structural imbalance that  we complained about was mostly suffered by the Igbo people.
We are the only political group that has five states in Nigeria, while others have six states and Northwest has seven states. We have the least number of Local Governments, 95 Local Governments the closest people to us have 123 that is the South-South Zone.
And in Nigeria, number of states, number of Local Government have been the indices for sharing revenue in this country  that also applies to  the Federal Character principle in recruiting people to national  offices.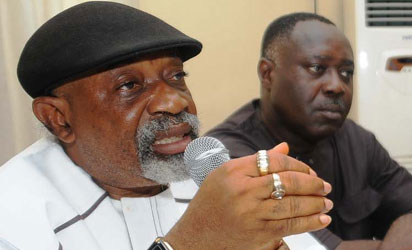 So, if  I was identified as somebody with domineering Igbo character, I have no apology. The essence of life is for you to protect the lives of your people.
You get things that accrue to them in a Federation like Nigeria, where we are part of the Federal Republic. What is good for the goose is good for the gander and it wouldn't have been nice if we went to the National Conference and kept quiet over these challenges our people have been facing. And we are happy that the contributions we made individually and collectively saw to the important decision being made by way of resolution at the National Conference.
With the defection of the former governor, Mr Peter Obi and some members of the National Assembly from APGA, how strong is APGA platform to carry you through in your senatorial ambition?
APGA is a political party with a difference. APGA is the movement of a people. It is not something that an individual can reduce its potentialities in any contest. For example APGA had been registered before myself dragged Obi into APGA to contest Governorship election. I was the one who dragged him into the party.
Governorship election
I use the word dragged because by October 8, 2002, when I was in charge of his bid to run for the governorship election in Anambra State, which he started in 2001. By 2002,  APGA had been registered around June, by June 22 of  2002, by October, Obi had not made up his mind which party he would have governorship election form.
So, I had to drag him because I knew it was only through APGA that he could win that election. I was also aware that as at July 2002, Chief Emeka Odumegwu Ojukwu had called on all Igbo people to join APGA. That was at Choice Hotel, Awka,  on July 30, 2002 . Ojukwu  was also on his way to APGA because at that time, he was the chairman of Board of Trusrees of APP. So I knew that once Ojukwu joined APGA, that it would become a different type of political movement for our people and that was  exactly what happened when he declared to run for presidency in APGA in December 2002.
So, you can now see that it was that character that APGA has that  was responsible for the followership the party enjoys in the South East mostly and in other places.
Obi did not give APGA its character. Obi was never the face of APGA. The face of APGA has remained Dim Emeka Odumegwu Ojukwu and the character of the party has remained its strength in Nigeria. If anything is to be said, I will say that APGA made Peter Obi what he is politically. Instead of APGA diminishing we are receiving people into the party.