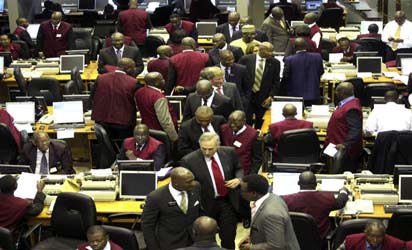 Nigerian Stock Exchange
In the wake of volatile global market, Nigeria continues to attract significant foreign investors interest, the recent being from United Kingdom who sent delegates to Nigeria.
Shortly after an MOU was signed by the London Stock Exchange Group and Nigerian Stock Exchange (NSE), Sir Roger Gifford, former Lord Mayor of London and Co-Chairman of the UK Government's Nigeria Emerging Capital Markets Task Force led a team of high profile delegates who visited Aigboje Aig-Imoukhuede, president Nigerian Stock Exchange (NSE).
Gifford said: "Nigeria is probably the most exciting opportunity for capital markets development in the world. We in London have seen clearly how an effective, transparent and well-governed capital market –for bonds as well as stocks –can transform a country's fortunes for the better, reducing dependence on bank capital and making investment
securities available to a much broader range of individuals and institutions. I am greatly looking forward to being part of this project,"
Aig-Imoukhuede told the UK delegate that, "Nigeria continues to attract significant foreign interest even during periods of global market volatility. We welcome initiatives that will further develop investor confidence and complement our bold financial market
transformation agenda".
He said: "I like UK enthusiasm for the opportunities in Nigeria. We always believe that Nigeria development will come from investors (foreign and local) who have long term views in their investment in Nigeria. The interesting thing is that UK interest in Nigeria economy is coming despite a fall in oil prices. This proves that Nigeria is more than oil prices."
"I commend the UK government and all other stakeholders for this initiative. We have always said that our success depends on starting right. We recognized the need to dimension Nigeria financial system. For every nation, trade is necessary for growth and development.
"The greater the velocity of trade, the better the growth of an economy. The infrastructure that facilitates trade is key. In that same way, capital market whether by product or same infrastructure can have that same effect. We recognise that more knowledge is beneficial for growth. The most important is that the end goal is the development of the market. I guess it is in that regard that the UK feels it can benefit from Nigeria," the NSE president said.
Mike Purves, UK Acting Deputy High Commissioner/Director Trade & Investment, said, "This is the start of the conversation that we want.We are delighted to have Aig-Imoukhuede on board to lead the Nigerian Stock Exchange. This is not a talking show but to get real deliverables and kick-off evidenced in the agreement we signed with the Nigerian Stock Exchange (NSE)."
The UK delegates visit to the NSE president offered them opportunity to interact with other capital market stakeholders like president Chartered Institute of Stockbrokers (CIS), Albert Okumagba; chairman Association of Issuing Houses of Nigeria (AIHN), Victor