Abuja –  The Nigeria Police on Friday insisted that it acted professionally to forestall mayhem on Thursday's commotion at the National Assembly.
The Force Public Relations Officer, Mr Emmanuel Ojukwu, made this known when he briefed newsmen on police role on Thursday's commotion at the National Assembly.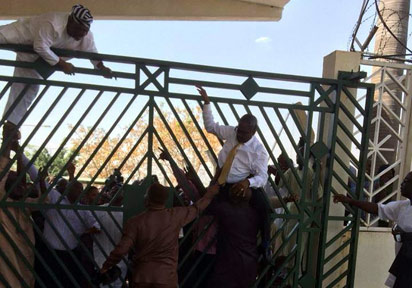 Ojukwu maintained that policemen at the National Assembly acted to maintain law and order, but were rebuffed by some "hoodlums and never-do-wells', who tried to beat security check at the gate.
"When we have information that something bad is about to happen, our job is to stop it from happening and all we did yesterday was to forestall such an occurrence,'' he said.
The spokesman explained that some hoodlums accompanied some of the lawmakers and refused to be checked at the gate.
This led to the closure of the gate when the House of Representatives speaker tried to gain entrance into the National Assembly premises.
He said that the policemen acted professionally, one of the officers was assaulted in the process leading to the dropping of the teargas that caused commotion at the complex.
"The policemen on ground acted according to their discretion and to the best of their ability. I am satisfied with what the policemen did yesterday.
"Law and order must be respected at all cost and at all times otherwise the nation will be in turmoil.''
The police said everybody should obey the laws of the land and do things in line with the law.
He said: "you cannot make a law and be a breaker of the law, it's not acceptable in normal societies.''
The spokesman said seven arrests were made and that investigation was ongoing so as to unravel the culprits and prosecute them.
Ojukwu assured that the police would continue to carry out its duties in line with the laws of the land.
He warned politicians to go about their electioneering campaigns in line with laid down rules and regulations.
The spokesman had earlier issued a statement explaining the police's role in the unfortunate incident at the National Assembly on Thursday.
"The Nigeria Police promptly deployed its personnel to the premises to prevent a breakdown of law and order.
"Consequently, the police cordoned the area and began screening of all members and visitors alike.
"In the course of this lawful exercise, Alhaji Aminu Tambuwal, arrived the venue with a motley crowd, who broke the cordon, assaulted the police and evaded due process.
"The police had the duty to restore order and normalcy using lawful means." (NAN)