By Ikenna Asomba
The race to the Alausa Government House, come February 28, 2015 in Lagos State, has taken a dramatic dimension, as aspirants across the political parties have begun to device new campaign strategies to sell themselves to the electorates.
Just like their counterparts in the ruling All Progressives Congress, APC, aspirants under the main opposition Peoples Democratic Party, PDP, are also not resting on their oars in taking their brands (names), with whatever means, to the state's teeming eligible electorates, recently put at 4.8 million by the Independent National Electoral Commission, INEC.
Earlier this November, residents in Lagos, were inundated with the desperate 'innovation' taken by one of the front-line aspirants of the All Progressives Congress, APC, who took his campaign strategies ahead of other aspirants with the launch of N100 and N200 recharge cards of one of the major telecommunication companies.
The voucher has the picture of the aspirant in white agbada and blue cap, holding a broom with his watchword which reads: "Strong Vision, Strong Leadership."
Also, the official website of the aspirant was inscribed on the voucher, even as the flip-side has a piece of advice for voters which reads thus, "ATTENTION ALL VOTERS: "Please ensure you pick your Permanent Voters' Card (PVC) as announced by INEC."
This is even as the APC logo, a hand with a broom lifted high appeared on the branded voucher.
Non partisan
Following the controversies that this campaign strategy has steered over the last few weeks, the telecommunication company had in a statement dissociated itself from the branded vouchers, adding that it was not consulted before the vouchers were printed by one of its franchised dealers.
The telecommunication giant added that it would take appropriate steps to correct the branded vouchers that has continued to elicit criticisms from other aspirants and many Lagosians, who have opined that it is now involving itself in partisan politics, despite being a national carrier.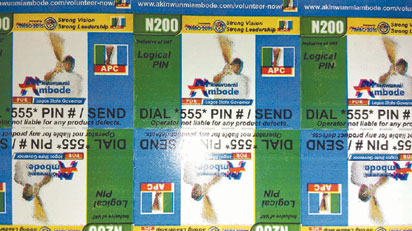 The statement signed by one of its top officials and circulated to the media reads thus: "As a corporate organisation, we are non-political and non-partisan. We do not have any arrangement with any political party to produce specially branded recharge cards or merchandise. We also do not have any affiliation with any political party or organisation, either in Nigeria or in any of the 22 countries where we operate across Africa and the Middle East.
"Operators and their authorized partners are allowed to sell logical PINs to dealers and trade partners, who in turn retail them to third parties and members of the public who may also wish to reprint them for their private/commercial use."
"We will take all prudent steps to ensure that dealers conform to agreed trade practices consistent with statute and policies governing the Industry."
Branded breads,  rice surfaces
Aside branded vouchers, aspirants from across the political parties have also taken their campaigns to branded loaves of breads, bags of parboiled rice, kegs of groundnut oil, stationery such as books and pens, face caps, umbrellas, kitchen utensils such as plates and cups, table waters among other items, where their below-the-line adverts are targeted at.
However, this is not to say that the usual campaigns through the use of posters and banners have stopped.
It is against the backdrop of the indiscriminate pasting of posters and banners, that spurred the Lagos State Signage and Advertisement Agency, LASAA, to convene a meeting with political parties in Lagos on November 7, 2014.
According to the Agency's Managing Director, Mr George Noah, the meeting became imperative so as to spell out modalities guiding the use of campaign posters and banners for the forthcoming general elections, thus checkmating the indiscriminate use of campaign posters and banners in Lagos State.
Noah added that the parley would seek to ensure that the use of campaign posters and banners is done with proper consideration for the environment under enabling laws.
Throwing light on challenges being faced by the agency's enforcement team, in its bid to rid Lagos of the visual blights posed by indiscriminate use of outdoor political campaign materials, Noah lamented that "Our officials are being attacked and harassed daily whenever they set out to discharge their statutory duties across the state. Despite repeated appeals and warnings, we have noticed an increasing trend in this ignoble act. This has to stop."
The LASAA boss added that "We wish to restate our commitment to our earlier directive to the effect that posters will not be allowed within unauthorized places. These are: high streets, highways, major roads, loops bridges, pillars and triangulars."
Despite this warning from LASAA, aspirants' campaign posters and more recently banners continue to dot the landscape in the state.
However, barely three months to the general elections, political observers in the state are thus keeping their fingers crossed on what next aspirants will introduce as their campaign strategies.