By Ekerete Udoh
It's great to be back!
Wow! How great it feels to be back here on the refreshing pages of this great newspaper. Between 2009 and 2010, I ran a weekly column in the Saturday Vanguard appropriately entitled "Diaspora" given my then residence in New York City. The column was essentially a platform that provided a handshake across the Atlantic as some of the issues I treated then were mostly on American politics and pop culture related stories.
Few weeks ago, I reached out to the Editor of this newspaper, Mr. Jide Ajani, a seasoned journalist whose works I have followed for years especially his reportage on our nascent political evolution , analyses and interviews done with the major actors of the Nigerian political space. I have been so impressed by the depth and intellectual flourishes he usually brings to bear in his presentations, and had convinced myself that someday we would have a meeting point of minds and the end product of that desire is this column you are reading now.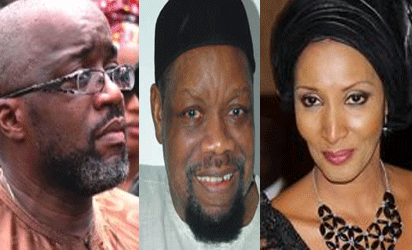 Since 1984 when Uncle Sam established this newspaper, I have had an emotional attachment to it. Apart from living a few blocks away from the newspaper in 1984, I had numerous friends who practiced their craft here and I remember strolling down each time I came on break from school to its famous staff canteen, The Canal, to drink beer with those friends- the late Hakeem Ikandu, Ely Obasi, Ogbonnaya Amadi (may their souls rest in peace).
Each time I visited Nigeria from my then base in New York City, I would always find time to stop by to see friends such as Mideno Bayagbon- the current Editor, of the Daily Vanguard. Mideno and I have been friends since 1988, and so it is exciting to be back here for an encore. Ekerete Udoh's World, as this column is aptly entitled, which is also the title of my blog www.Ekereteudoh'sworld.com, will encompass everything I have done and championed in my over two decades of active service in the vineyard of journalism and information dissemination. The slogan: Politics. Pop Culture.Romance, pretty much sums up the definitional layers of my career in journalism. For over a decade, I, alongside other pop culture and society reporters, such as Dele Momodu, Femi Akintunde Johnson (FAJ), Mayor Akinpelu, Kunle Bakare, Azuka Jebose-Molokwu, the late Ogbonnaya Amadi, Alvan Ewuzie, Moji Danisa, Kayode Ajala,  helped define and championed the contours and layers of Nigerian contemporary   society and entertainment or pop culture journalism. We promoted and shaped the careers of numerous stars that today illuminate the Nigerian pop culture scene with their talents and skills.
Our motivation then, as is now, was that Nigeria is an evolving society, and, like other emerging or mature societies, we needed to celebrate the best among us and, by so doing, create a legion of role models and weave a narrative that could help unleash the potent forces that are embedded in us all. America created its own narrative of the country being "God's own country "where milk and honey flow ceaselessly. It didn't matter that even in the land of milk and honey, some people still   go to bed hungry, but the narrative has stuck with us, and America remains today, rightfully so, the destination of choice of everyone who can afford to travel. It has an hegemonic control on power, values, social ethos and mores, commerce, pop culture, sports and technology, engendering a near maniacal desire by people the world over to savor and sample the stable it provides.
Today, as a result of our pioneering  drive, we are happy and proud that our efforts and investment in promoting and projecting that sector of our national life have come full circle as the Nigerian pop culture scene is roaring and the world has stopped to listen to the symphony of its echo chambers. Nollywood has become the new African pop culture religion with adherents spread all over the world.
And the question arises: What would Ekerete Udoh's World seek to present? My answer is simple: My journalism career has, for the most part, been defined by my acute reading of the issues that relate to the human condition, foibles and challenges; hence my introduction in 1986 into contemporary Nigerian journalism a new genre that was then not considered a major plank, but which today all newspapers have adopted and which attracts the most readerships: romance and relationship issues.
In 1986, I introduced the column, Stories That Touch The Heart, in the defunct Sunday Times and later Sunday Concord and it helped launch a new genre in journalism. This column will publish on a fortnightly basis stories of the triumph and failures in marriage and relationships and would attempt to put the sheen back into the institution of marriage and to encourage those who see it as an enterprise laden with bobby trap and emotional attrition to come to the realization that marriage or doing the right things in relationship can indeed be an emotionally and rewarding enterprise. What you will be reading here will be gripping and unputdownable stories from the man who started it all… (Pardon my immodesty here, but that is an unvanished fact).
Politics will be an important aspect of this column. Apart from the political season being upon us, and thus, the need to report and analyze   issues and the actors in a dispassionate and unbiased manner, I am a political scientist by training with   bachelor's and master's degrees in the discipline earned from two of the finest universities in the United States ( was the Overall Best Graduating Student in International Relations and Comparative Politics from Brooklyn College of the City University of New York, Class of 2006) , and had been opportune to work on campaigns ( the successful gubernatorial run of ex-New York State Governor, Eliot Spitzer in New York )where I made my home for almost 14 years. My whole being, thus, is illuminated by the stream of politics and as our political culture gets deepened and Nigerians gradually internalizing the notion that politics is here to stay, the need to do succinct and intellectually defined stories and analyses that hopefully would help our readers be more informed about politics and the art of public policy formulation becomes even more imperative.
We will also break a number of exclusives and I have already about four of such exclusives that most reporters will give their right arms to get. You will be reading those exclusives here as well as on my blog: www. EkereteUdoh's world.com . Next week, we will begin one of such exclusive stories- the interview I did with my dear friend, Her Excellency, Mrs. Bianca Ojukwu, Nigeria's Ambassador to the Kingdom of Spain and the widow of one of the definitional figures in Nigeria contemporary history-the late Ikemba Nnewi, the people's General, Chief Emeka Odumegwu Ojukwu.
This interview is a collectors' item because of the exclusive details in it. The interview was no-holds barred-every angle that the media has been speculating on but didn't get her to talk about; she had opened up to me. "I wouldn't really wish to talk about some of these issues Ekerete", she had told me, "but since it's you and I have come to trust your judgment, I will answer your questions"   and she didn't disappoint.
 Excerpts: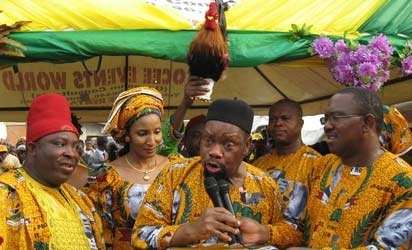 "I came into a deeply divided family – a lot of my husband's relatives, I never saw physically before he died. Ojukwu Transport Company issues have been in court, they still have not resolved the issues concerning their father's wealth, and this was an issue that started in 1966.. I am very comfortable if not for anything, for being the daughter of Chief C.C.Onoh, and my father took care of me, so the issue is not just about their family. But my husband was also a very serious person, so he anticipated all what is happening now by making sure that the most of my inheritance is bequeathed to me by the Deed of Gift, so prior to his death, most of those gifts had already been registered under my name.
But I will say that at the end of the day, it's not a question of acquisition, all I am saying is that I am the only wife that he wedded, first and foremost, at the Kaduna registry as witnessed by his friend, the late Clement Akpamgbo, and we had a small reception after the event at Apo Quarters, in Abuja. After the registry marriage, we went through the Catholic marriage at Our Lady Queen of Nigeria Catholic Church in Abuja, and it was officiated by the then Arch Bishop Onaiyekan- then the Archbishop of Abuja Diocese.
We finally went through the full traditional marriage in my father's compound that literally had all the traditional titled chiefs, paramount    rulers of the community in attendance. The five governors of the eastern states at the time were present, ambassadors were in attendance. The Abuja wedding for instance was almost a state wedding. So the evidence is there for all to see, and when you are faced with that situation, and you have been properly married, and you have off springs from that union, but purely because they want to cheat your offsprings of their inheritance, in addition to other things, by virtue of their being the youngest, any mother would do all she can to protect them. They have hurled all sorts of vitriol and outlandish claims about me- the most laughable has been what they claim that I was not legally married to my husband. I mean, this is a marriage that took place in 1994 and not 1884; so the evidence, the videos, media reports are there for everyone to see."
Next week: Bianca reveals why she will never remarry and what manner of a lover Ojukwu was! Keep a date
Subscribe for latest Videos